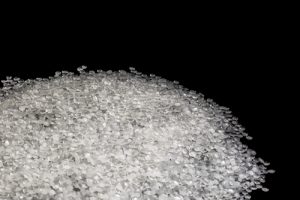 An innovation developed by Procter & Gamble to bolster polypropylene recovery is being put into action, with construction of an Ohio facility beginning today.
A startup called PureCycle Technologies this morning broke ground on a plant in Ironton, Ohio, which is approximately 130 miles from P&G's Cincinnati headquarters. It will be located at the site of a recently closed Dow Chemical Co. facility.
PureCycle has unveiled technology that it says is capable of generating recycled PP with virgin-like properties, and it could help move contaminated and dark-colored polypropylene streams into higher-value applications. The company licenses the process from P&G, a consumer-products heavyweight that currently uses more than a half a million tons of virgin PP a year.
Investments for the PureCycle project in Ohio are expected to total at least $120 million, a company spokeswoman confirmed. Much of the funding appears to be coming through bonds from local governments.
The first step will be to build a feedstock evaluation unit, followed in the next few years by a commercial-scale PureCycle facility.
"This technology, which can remove virtually all contaminants and colors from used plastic, has the capacity to revolutionize the plastics recycling industry," Kathy Fish, P&G's chief technology officer, stated in a press release.
'Very elegant technology solution'
Investment firm Innventure is a key bridge between P&G and PureCycle. A firm dedicated to commercializing new technologies, Innventure launched PureCycle to implement P&G's PP-recycling technology.
P&G's recycled-content goal is to double its use of recycled resins in its packaging between 2010 and 2020. According to its latest sustainability report, it is 30 percent of the way toward meeting that goal.
While speaking at the 2016 Plastics Recycling conference, Steve Sikra from P&G said his company uses about 550,000 tons of virgin PP each year but continues to look for recycled PP that meets company specifications.
In an effort to open up the range and volume of recovered PP that could be recycled into P&G's packaging, a polymer scientist at the company developed a "very elegant technology solution to purify waste-stream polypropylene," Mike Otworth, CEO of Innventure, said in an interview with Plastics Recycling Update.
P&G approached Innventure with an offer to license the technology and sell into the marketplace the resulting recycled PP.
"We felt that it had a lot of upsides, both in terms of market potential and potential to do good for the environment," Otworth said, describing the technology as a "purification process." It does not involve depolymerization, he said.
"There's no real chemical transformation that goes on," he said. "It's a largely physical process."
Inks and additives are removed in multiple stages. The plastic is heated and the viscosity of the molten resin is varied in a way that creates conditions that are advantageous for efficient purification, he said.
The result is PP with near-virgin-plastic qualities, according to those involved in the project. The process removes odor, contaminants and most color, according to the press release.
Employing 15 people, the PureCycle facility now under construction will serve as a feedstock evaluation unit (FEU), testing a variety of streams to help PureCycle determine what mix to buy to meet end-user requirements.
The press release noted the FEU, slated to begin operation in January, will also assess PureCycle's environmental impact.
Following the feedstock evaluation unit, company officials plan to open a commercial-scale production facility in late 2020 at the southern Ohio site. That facility will employ over 60 people and is slated to produce 80 million pounds per year from an input of 100 million pounds.
A need in the market
Because of the high costs and the limited ability of many mechanical recycling methods to manage multi-colored and heavily contaminated streams, post-consumer PP is often recycled into items such as car batteries, planters and garbage cans, which are often black products.
Outputs of PureCycle's process can be used in higher-value applications, project leaders said. No U.S. Food and Drug Administration letter of non-objection has yet been obtained to allow PureCycle PP in food and drink packaging, but Otworth said he believes the process yields recycled plastic that could be used in those markets.
"The ability to provide food-contact-grade material is certainly important," he said.
The PureCycle recycled PP can be sold at around the same price as virgin plastic, which is important because customers don't want their costs to rise, Otworth said. He wouldn't comment on whether the technology could be applied to other resins.
The Association of Plastic Recyclers (APR) has identified 1 billion pounds of recycled PP demand in North America, with nearly three-quarters of that for high-quality material.
Steve Alexander, APR's executive director, said his group is viewing the announcement with optimism. He also described P&G as one of the pioneers of plastics recycling over the years.
"We're excited about this," Alexander said. "We're hopeful that technology will help address some of that unmet demand that is in the marketplace for recycled polypropylene."
PureCycle is already looking at a global feedstock acquisition strategy, even though production scale is still a few years away, Otworth said. Customers will probably include a mix of brand owners such P&G, who are buying resin for their own use, and molding operations supplying products to a variety of customers.
More stories about PP