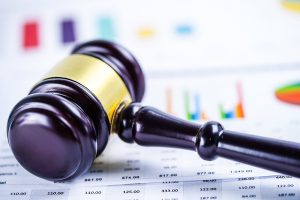 PET reclaimer Loop Industries has settled a longstanding lawsuit concerning the company's stock. Meanwhile, the business recently sold millions of dollars worth of stock to an unnamed institutional investor.
The Terrebonne, Quebec-based startup announced the legal settlement in a filing with the U.S. Securities and Exchange Commission (SEC). The agreement ends a case that's been ongoing for over two years. The lawsuit concerned a dispute over whether two individuals were owed stock shares at a certain price, per an alleged agreement early in the company's history.
Founded by Daniel Solomita in 2015, Loop is commercializing a heatless, pressureless depolymerization technology that efficiently processes low-grade PET scrap into PET's chemical building blocks, which can then be used to produce new food and drink packaging. In September, the company entered into a 50-50 joint venture with global virgin plastics producer Indorama Ventures. Through the deal, a U.S. Indorama production facility will be retrofitted with Loop's technology to produce 100 percent RPET.
Then, Loop signed supply agreements. In October, the company signed a suppy deal with PepsiCo, and the following month Loop inked one with Coca-Cola. Loop has also signed agreements with Danone and L'Oréal.
Lawsuit settled
Loop and Solomita, company CEO and president, were first sued in Los Angeles Superior Court in January 2017. The lawsuit was filed there because the company's corporate address was previously in Los Angeles. The plaintiffs are New York state resident Henry Lorin and Canadian citizen Paul Cugno.
According to the complaint, Solomita in 2014 and 2015 met with the men, who have experience in investment banking and corporate financial consulting, seeking help setting up and developing the company that would become Loop. Lorin and Cugno claim that, in exchange for their services, Solomita agreed to sell them 1 million shares of the company for 0.8 cents each, or a total of $8,000. They claimed he reneged on the verbal deal.
Their lawsuit asked the court to enforce the oral agreement and to impose penalties and compensation for damages.
Solomita and Loop denied the allegations, claiming there never was a stock-sale deal, and even if there had been a verbal agreement as described by the plaintiffs, it wouldn't have been legal under state and federal laws.
The parties reached a settlement ending the case on Feb. 26. Under the deal, Loop will issue the plaintiffs 150,000 shares of common stock. It will also provide them warrants giving them the right to purchase 300,000 shares at $12 per share and 200,000 shares at $11 per share. Those share prices are available to plaintiffs for a set period of time. As of March 5, each share is worth just under $10 a share.
Loop is traded on the Nasdaq Stock Market.
Loop's SEC statement said the company agreed to settle to avoid the burden, expense, risk, inconvenience and distraction of continued litigation. It continues to "vigorously" deny it broke the law or engaged in any of the wrongful acts alleged. "[Loop] diligently and scrupulously complied with any applicable fiduciary and other legal duties," according to the statement.
Attorneys for Lorin and Cugno did not respond to a request by Plastics Recycling Update for comment on the settlement.
Major investment announced
Separately, Loop recently closed on the sale of 600,000 shares of common stock to a single institutional investor, which was not disclosed. The investor paid $8.55 per share, or more than $5.1 million.
After paying placement agent fees and other offering expenses, Loop received $4.1 million.
"Loop Industries intends to use the net proceeds from this offering for working capital and other general corporate purposes," according to an SEC filing.
Photo credit: sasirin pamai/Shutterstock

More stories about courts/lawsuits