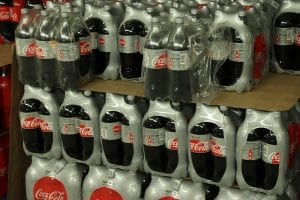 PET recycling startup Loop Industries has inked another deal with a global food and beverage brand.
The Terrebonne, Quebec company has signed a five-year deal opening the door to supplying RPET to Coca-Cola bottlers.
Loop, which uses a heatless, pressureless depolymerization technology, reached what was described as a "supply framework" with Coca-Cola's Cross Enterprise Procurement Group (CEPG). CEPG is a procurement collaboration made up primarily of authorized Coca-Cola system bottlers.
The deal allows Loop to provide 100 percent recycled resin to authorized bottlers who enter into supply agreements with the Loop, according to a Loop press release. One of those major bottlers that signed a deal to buy Loop's RPET is Coca-Cola European Partners (CCEP), which supplies drinks to 13 European countries.
"Loop is a provider of enhanced recycling technology that makes available new sources of high quality RPET, which previously could not be used due to colorant or other recyclability obstacles," according to CCEP's announcement.
CCEP, which is the largest independent Coca-Cola bottler, has a target to use 50 percent RPET in its bottles by 2025. In 2017, 24.6 percent of the PET the company used was recycled.
Loop will supply RPET it produces in partnership with virgin plastics giant Indorama Ventures. The RPET will be generated at a still-unnamed Indorama facility in the U.S., with production expected to begin in early 2020.
In October, Loop signed a multi-year agreement to supply PepsiCo with RPET produced through the Loop-Indorama venture. It has also announced supply deals with beauty products giant L'Oréal and food and beverage giant Danone.
Photo credit: StudioPortoSabbia/Shutterstock

More stories about Canada