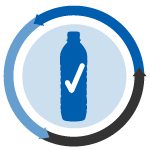 The U.S. Food and Drug Administration gave a New England plastics reclaimer the thumbs up to recycle a polyolefin blend for use in cutlery and food packaging.
That was one of two letters of no objection (LNOs) the FDA issued over the past six months. The letters allow plastic reclaimers to use the technologies to produce recycled resins for food-contact items. In issuing the letters, the FDA was convinced the recycling processes would result in contaminant concentrations of 0.5 parts per billion or less in the food, below its "threshold of regulatory concern."
In this twice-yearly roundup, Plastics Recycling Update looks at applications from Aaron Industries and Veolia. The most recent roundup covered LNOs issued earlier in 2018.
Recycled PP/HDPE blend
On Oct. 18, the FDA issued an LNO allowing Aaron Industries Corporation to recycle PP and HDPE into a blend suitable for food-contact items. The application was submitted by Florida-based Intertek Health, Environmental and Regulatory Services on behalf of Aaron Industries, a reclaimer based in Leominster, Mass.
Aaron Industries applied to produce a blend of postconsumer PP and HDPE and post-industrial PP. The FDA's letter covered using the recycled resin in 100 percent recycled content single-use food items, including disposable cutlery and trays, caps, closures and lids for food services. As is standard for LNOs, the feedstock cannot include industrial or chemical containers.
"This letter of no objection memorializes Aaron's commitment to provide our customers innovative solutions to their recycled content challenges at attractive price points," Robert M. Tocci, vice president of Aaron Industries, stated in a press release.
The release noted the recycled plastic compound, referred to as ARPP200-NOL, was available for distribution starting in November 2018.
100 percent RPET items
On Aug. 24, the FDA issued a letter for Veolia Beteiligungsgesellschaft (Veolia Investment Company) covering the recycling of post-consumer PET. The letter was issued to the German Fraunhofer-Institute for Process Engineering and Packaging (IVV), which applied on behalf of Veolia.
The document covers Veolia's "super clean" process, which produces RPET suitable for food contact items made of 100 percent recycled plastic. The feedstock consists of both food and non-food PET containers but excludes industrial and chemical containers.
To receive the latest news and analysis about plastics recycling technologies, sign up now for our free monthly Plastics Recycling Update: Technology Edition e-newsletter.
More stories about technology