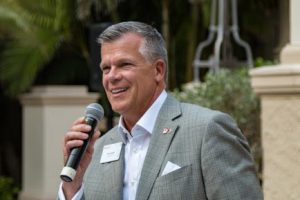 William (Bill) Carteaux, who was central to many plastics recycling conversations as head of the Plastics Industry Association, has died at the age of 59.
Carteaux succumbed to acute myeloid leukemia (AML) early on the morning of Dec. 10, the Plastics Industry Association announced. He was first diagnosed with the blood cancer in 2016. Through two rounds of treatment, he had battled it into remission before announcing in November 2018 it had returned.
"We have lost an incredible leader, colleague and friend," the group said in a statement. "Bill was more than just an inspiring, larger-than-life leader for our industry, Bill was a dear friend to each of us who were lucky enough to know him."
Under Carteaux's leadership, the Plastics Industry Association moved further into issues of recycling and plastics sustainability. In 2016, the group held its first Re|focus Recycling Summit and Expo, launched with the goal of driving demand for recycled plastics. The association's Recycling Committee has also been active with a number of projects, including recent ones focused on auto plastics recycling and end markets for mixed PE film. The group has also begun including the need for recycling infrastructure funding in its federal lobbying efforts.
Before becoming the association's president and CEO in February 2005, Carteaux spent his career in the plastics machinery industry, including in leadership positions at Demag Plastics Group and Autojectors. He has also served on the boards of multiple manufacturing and plastics industry groups, including at the National Association of Manufacturers (NAM), the Council of International Plastics Association Directors (CIPAD), The Plastics Academy, the National Plastics Center and Museum, the Future of Plastics Foundation and the SPE Foundation.
Plastics News on Dec. 10 published an obituary for Carteaux.
Wylie Royce, chairman of the Plastics Industry Association board, wrote that Patty Long, chief operating officer, will assume the role of interim president and CEO. He noted that people can share their memories of Carteaux at [email protected].
Photo courtesy of Plastics Industry Association
More stories about industry groups