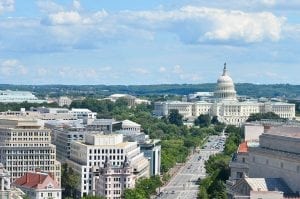 Plastics industry interests are lobbying Washington politicians to fund recycling infrastructure projects, a new area of focus for groups that have historically emphasized trade and regulatory issues.
The Plastics Industry Association and other industry groups held their annual fly-in last week, bringing company executives to Washington, D.C. to meet with lawmakers on issues relevant to the industry. According to the agenda, the featured topics included trade and tariffs, workforce development and recycling infrastructure.
As Plastics News reported the recycling topic is new to the plastics companies' lobbying efforts. It was driven by "rising concerns over plastic waste and worries over bans or taxes on plastic packaging," the publication noted.
Scott DeFife, vice president of government affairs for the Plastics Industry Association, told Plastics News that "recycling infrastructure is really the new key point that we want to raise."
To that end, the groups are pushing Congress to allocate federal spending for materials recovery facilities and waste-to-energy facilities, Plastics News reported. In addition to the Plastics Industry Association, the groups include the American Chemistry Council (ACC), American Mold Builders Association (AMBA), Manufacturers Association for Plastic Processors (MAPP) and the Plastic Pipe Institute (PPI).
The plastics groups' lobbying focus on recycling-related legislative issues adds additional support to ongoing legislative advocacy at the federal level by recycling-specific groups, including the Association of Plastic Recyclers (APR) and the Institute of Scrap Recycling Industries (ISRI).
Focus on pipe
In a separate push that also has recycling implications, the groups included "open competition for plastic pipe" among their topics of focus. The ACC explained that this would open up public infrastructure projects to use plastic, rather than prescribing certain materials such as steel.
PPI issued a release this month detailing how increased use of plastic in infrastructure projects could spur recycling by creating more demand.
Recycled HDPE is now frequently used in plastic pipe manufacturing, according to PPI. The group also stated that North American standards organizations have recently changed their criteria to allow more recycled plastic usage, "permitting use of recycled HDPE drainage pipe within the public right-of-way."
"Using discarded bottles to make new ones is certainly beneficial, but taking that same old bottle and using it to make pipe is a far better use of recycled resin," said Tony Radoszewski, president of PPI, in the release. "Our industry takes a product that has a 60-day shelf life and turns it into a product with a 100-year service life. That is an extremely important benefit of plastics that we want our legislators to know."
Photo credit: Orhan Cam/Shutterstock

More stories about industry groups