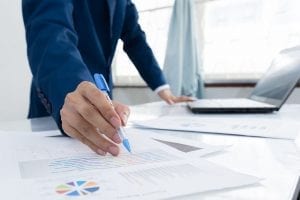 The leader of a company that is putting millions behind RES Polyflow says plastics conversion technologies today are comparable to renewable energy solutions when they were still in their infancy.
"To me, this is akin to markets we've seen 10 to 15 years ago in renewables, both in solar and wind," said Bob Powell, president and CEO of Brightmark, in an interview. "We think the U.S. could support up to 600 additional plastics-to-fuel facilities."
Brightmark Energy, a San Francisco company that focuses on commercializing waste and energy products, recently acquired a majority interest in and invested $10 million in plastics-to-fuel and petrochemistry technology company RES Polyflow. The deal was announced last week.
As part of the agreement, Brightmark has committed to put an additional $47 million into a long-discussed RES Polyflow facility in Ashley, Ind. That site, which has been said to have a capacity of 100,000 tons of mixed plastics per year, was initially announced in 2015 but has yet to open.
Nevertheless, Powell said Brightmark feels that with sufficient investment, RES Polyflow is primed for a breakthrough. "[It] brought its technology to the point where it's demonstrable at production scale," Powell said. "For the industry to mature, the technology needs to be commercialized."
Proving plastics-to-fuel
Brightmark has been looking into plastics-to-fuel for several years, identifying it as a sector that fits with Brightmark's mission, explained Powell. In addition to the RES Polyflow project, Brightmark also has a stake in a wastewater-to-energy plant in South Carolina and solar projects in Hawaii and California.
In the waste field, the company has identified single-use plastics as "one of our most profound issues," Powell said.
Chagrin Falls, Ohio-headquartered RES Polyflow came to the forefront of Brightmark's search.
"We looked at a lot of different opportunities and we think that what they've done is really interesting in that they solved one of the more difficult problems," Powell explained.
Many of the other plastic waste-related technologies Brightmark evaluated were functional at the test stage, but they wouldn't work when scaled up to production level, Powell said. In particular, many plastics-to-fuel systems create significant amounts of residue. RES Polyflow, which has been developing its technology for several years, does not have this problem with its system, Powell said.
He added that other technologies require very specific types of plastic for feedstock but that RES Polyflow's can work with a wider variety, including post-consumer mixed plastics, auto plastics, medical plastics and more.
Fundamentally, the RES Polyflow system "can operate at production scale and it does so for low cost," Powell said.
The goal for the Indiana facility is to annually produce 18 million gallons of diesel fuel and naphtha blend stocks, which are used in fuel production. The facility will also produce 5 million gallons of wax per year.
Powell said the site is now expected to open in late 2019 or early 2020.
Industry in development
The plastics-to-fuel sector has been in development for more than a decade. A year ago, Plastics Recycling Update spoke with RES Polyflow CEO Mike Dungan, who also leads the plastics-to-fuel subgroup of the American Chemistry Council, about where the industry is at in terms of scaling up. Dungan said the industry had evolved dramatically over the past few years, but was still not at maturity.
Brightmark agrees with that assessment.
"I don't think it's mature at all," Powell said. "That's where our expertise comes in."
One of the key factors tied to the development of the sector has been oil prices. When the cost of crude is high, there is more economic incentive for consumers to purchase from alternative sources.
Powell said Brightmark researched the current and projected markets for plastics-to-fuel products and concluded the economics will work.
"Price levels would have to go down quite significantly for this to be in a position of being uneconomic," Powell said. "So there's a lot of safety margin here."
Powell also noted that unlike some other alternative energy sources, the plastics-to-fuel sector is not dependent on government subsidies. Energy subsidies offset the economic hurdles of producing renewable energy, with the goal of keeping costs low to allow producers to compete.
"You can't find too many solar or wind projects here in the U.S. that would work economically without government support," Powell said.
In addition, some fuel-sector buyers have recently shown willingness to work with plastics-to-fuel enterprises. BP previously signed an offtake agreement to purchase the fuels produced by RES Polyflow, and the latest announcement states that the waxes will be sold to AM WAX, an industrial wax distributor.
Photo credit: Photo By ToRz/Shutterstock

To receive the latest news and analysis about plastics recycling technologies, sign up now for our free monthly Plastics Recycling Update: Technology Edition e-newsletter.
More stories about technology