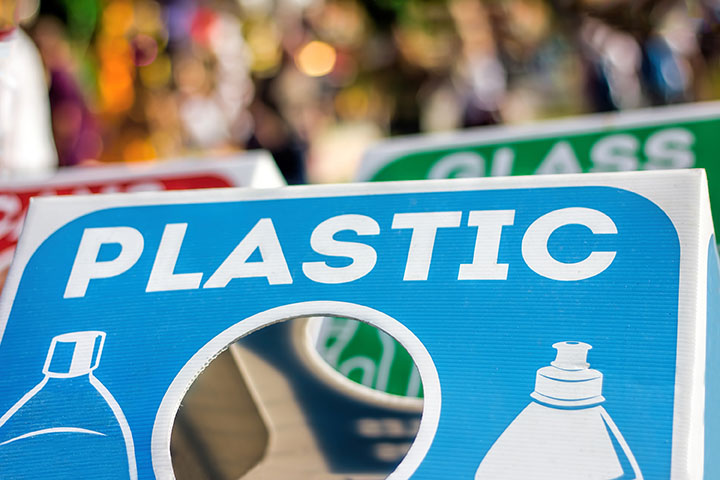 The head of the Association of Plastic Recyclers (APR) recently voiced concerns that plastics recovery progress could get dampened by stakeholders' transition to more holistic approaches to materials management.
During a recent webinar, Steve Alexander of APR and an official from the U.S. Environmental Protection Agency discussed the evolution of  sustainable materials management and what it means for the plastics recycling industry.
Under a sustainable materials management approach, managing a product at end of life becomes just one component of reducing that product's environmental impact. It's not necessarily about lessening the importance of recycling, but introducing new factors into the discussion. It's a concept being embraced by the U.S. EPA as well as states, waste companies and others.
But APR wants to make sure the work being done by the plastics recycling sector is not forgotten as the dialogue develops.
"Recycling is at the base of any sustainability movement," said Steve Alexander, executive director of APR. "Frankly, there is no sustainability without recycling."
What is the new approach?
During the Nov. 6 webinar, Ron Vance, chief of the resource conservation branch in the U.S. EPA's Office of Land and Emergency Management, gave an overview of the sustainable materials management concept. It was developed as part of the EPA's evolving work on solid waste management and materials use.
"We're trying to look at materials at large and really trying to understand where they come from, where they go and everything that's embedded within them," Vance said.
That means considering the impacts from raw material sourcing through manufacturing, delivery to market, use by the consumer and end of life. This way of thinking moves beyond the original EPA areas of interest, which focused on landfill and disposal regulations. It even moves beyond the concept of "integrated waste management," which emerged in the 1990s, Vance said.
The EPA's version of sustainable materials management considers end-of-life management but also includes five earlier areas of focus throughout a product's life.
"It's not always about end of life," Vance said. "It's really understanding what happens across the life cycle, where those impacts occur and where the opportunities throughout the life cycle are to mitigate some of those impacts."
And during the end-of-life management phase, Vance said, "reuse, recycling and whatnot come in as key roles in keeping that material in cycle, but it's not the end-all, be-all of minimizing all of those impacts."
'Don't want to de-emphasize recycling'
The plastics recycling industry has a "fundamental belief" that recycling must be a key component of sustainable materials management, Alexander said.
He pointed to the trend of major brand owners making recycling-related commitments, whether they're pledges to use more recycled content, to make more recyclable products or other similar goals. Amid this rising interest, "the last thing we want to do is discourage companies from recycling," Alexander said. "Not that EPA is doing that, but I think it's important to highlight the role that recycling must continue to play within this sustainable materials management conundrum."
One of the key concerns is that consumers and companies alike begin to place less focus on recycling, believing that the other pillars of sustainable materials management eclipse recycling in importance. It was a concern Alexander expressed in 2017, as well, after attending a plastic sustainability meeting that drew consumer product brand owners.
"We want people to continue to be more cognizant. We want companies and consumer brands to continue their commitment to utilizing recycling," Alexander said.
He identified several strengths of recycling within the life cycle discussion, including that recycling facilitates a consumer connection to sustainability efforts.
"If you look at the other components of sustainable materials management, it's about someone else doing something," Alexander said. Recycling, on the other hand, engages the consumer.
"One of the most critical actions that people take is the decision that they make with that container in their hand, and do they put that in their trash or do they put that in their recycling bin."
Another reason recycling is essential is that it will likely always have a role to play, according to APR. Manufacturers can work on source reduction, packaging innovation, life cycle analysis and reducing greenhouse gas emissions, but "at the end of the day, you're still left with a product that has to be recycled," Alexander said.
He indicated that the plastics recycling industry is not opposed to the factors a sustainable materials management approach promotes, such as examining greenhouse gas emissions for various materials. This year, APR completed a life cycle inventory analysis for using recycled resin versus virgin resin. The report, which is the first of its kind and will be released in the near future, highlights significant energy savings in transportation, resource consumption, emissions and other fields.
"I think that sometimes people miss how much contribution, from a life cycle and a greenhouse gas emission reduction [perspective], that using recycled resin contributes to sustainable materials management as well as sustainability in total," Alexander said.
Photo credit: jgolby/Shutterstock
More stories about industry groups