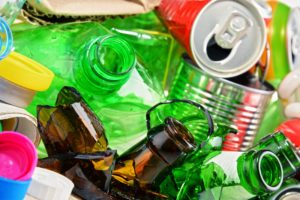 In Waste Management's latest sustainability report, the hauling and recycling giant noted it will begin emphasizing the environmental impact of its materials diversion activities instead of metrics based on weight.
According to the company's 2016 report, Waste Management (WM) recycled 14.0 million tons of material in 2015. That is down from 2014, when it recycled 15.1 million tons. WM's 2020 goal is to recycle 20.0 million tons.
WM has used weight-based goals, but, according to the company, they don't accurately reflect the achievements of the company.
"With this report and going forward, we're leading change by transitioning our recycling metrics to the measurement of greenhouse gas (GHG) emissions avoidance and energy savings," according to the report.
It's not the first time the Houston-headquartered company indicated its preference for the GHG measurement approach. In August, Resource Recycling covered a webinar in which WM officials discussed their research into the GHG reduction benefits of recycling different materials and their corresponding dollar costs. The results bolstered the argument for recycling paper, metals and plastic bottles but did the opposite for glass and organics.
Others in the industry have also shifted toward a sustainable materials management mode of program assessment, aiming to look at more than just weight-based diversion rates. The U.S. Environmental Protection Agency and the state of Oregon, for instance, have both adopted the approach.
In a statement that was part of the sustainability report, WM's new president and CEO, John Fish, Jr., laid out the argument for moving to what he calls "life cycle thinking." Fish replaced former CEO David Steiner in November.
"In the past decade, there's been a great deal of focus on often costly, sometimes abstract, and frequently difficult to achieve weight-based goals. And we've perhaps lost sight of the concrete environmental impacts that come from recycling," he wrote. "The way we talk about recycling — getting to 50 and 75 percent, and even 100 percent diversion — while noble, decouples the action of recycling from the purpose of recycling."
In terms of meeting goals, WM has found more success decreasing GHG emissions from its fleet. According to the report, WM reduced the carbon dioxide emissions from its trucks and other on-road vehicles by 24 percent in 2015. That is well past its 2020 goal of reducing emissions by 15 percent.