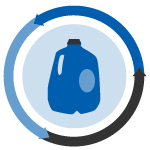 An extruder is used to pulverize contaminated plastics into a powder for extrusion into printer filament, and LDPE film deinking demonstrations are scheduled for November.
Recipes for plastic in roads: The Economist recently took a look at the use of recycled plastics as a partial replacement for bitumen, another fossil-fuel-derived polymer, used to make asphalt for roads. A test road mixing 5 to 10 percent plastics into hot bitumen is being built on the University of California, San Diego campus. British company MacRebur is testing different mixes of plastics that are difficult to recycle and often end up in landfills. The publication notes that different formulations can yield different asphalt properties, such as strength for carrying heavy vehicles, flexibility for withstanding lateral forces from turning vehicles and resistance to extreme temperatures.
Filament from mixed materials: Using a solid-state shear pulverization process, an Army lab has found a way to create a 3D printer filament from scrap plastic and other materials, according to Recycling International. The U.S. Army Research Laboratory pulverized shredded plastic bottles, paper and cardboard into a fine powder using a twin-screw extruder. The powder was then melted and extruded into a composite filament. The composite has improved mechanical properties, allowing it to be used to produce parts for military vehicles, weapons and other tools, the publication reported.
Scrap plastics to hydrogen: Power Technology takes a look at a variety of plastics conversion technologies, including those processing scrap plastics into hydrogen, diesel and crude oil. While pyrolysis technologies have been around for many years, researchers from Swansea University in the U.K. recently developed a process called "photoreforming" to convert a mix of plastics into hydrogen gas for possible use in vehicles in the future. They add light-absorbing photo catalysts to plastics and submerge them in an alkaline solution exposed to sunlight. The material then breaks down and produces bubbles of hydrogen gas.
RPET container label: Labels and packing materials company Avery Dennison will introduce to the European market a pressure-sensitive label made with RPET. Set to be introduced this month, the label will use an RPET liner. The product requires a carefully selected, high-quality feedstock to ensure it matches the performance of virgin plastic during the conversion and application processes. Because the availability of suitable RPET is limited, the company will have a limited supply of the liner for a time. A competing labels company, UPM Raflatac, this summer released its own pressure-sensitive label made with a 90 percent post-consumer resin liner.
Polyester from textiles: H&M, one of the world's largest clothing companies, is testing a chemical recycling technology in Hong Kong to recover polyester from textiles. The H&M Foundation opened a hydrothermal textile recycling plant, where heat, water and biodegradable chemicals are used to separate the plastic from cotton, according to edie.net and Reuters.  The plant was co-funded by the Hong Kong Research Institute of Textiles and Apparel (HKRITA).
Deinking demonstration: A Spanish company that provides a technology for deinking scrap plastics has scheduled a demonstration event for Nov. 6-8. During the three-day event, Cadel Deinking of Alicante, Spain will demonstrate its technology on a system capable of processing 1,000 pounds per hour of heavily printed LDPE. Plastics Recycling Update wrote about the company in March 2017, shortly after a company representative presented at the Association of Plastic Recyclers (APR) Technical Forum held in conjunction with the Plastics Recycling Conference.
Focus on PE film reclaimer: A large PE film recycling operation in the Netherlands run by CeDo is the topic of a write-up by Euractive. Out of about 80,000 metric tons a year, about half the incoming feedstock comes from residential sources. Using a number of sorting, washing and extrusion technologies, the company produces pellets for use by its manufacturing arm to make new bags. CeDo's wash tanks remove so much sand that it can generate revenue by selling sand to construction companies. In March, Plastics Recycling Update noted that CeDo is also involved with testing a recyclable PE multi-layer package produced by Mondi.
To receive the latest news and analysis about plastics recycling technologies, sign up now for our free monthly Plastics Recycling Update: Technology Edition e-newsletter.