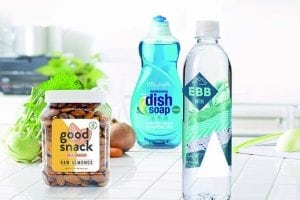 A global labels company has developed a PET bottle label that meets recyclability standards and is made with post-consumer plastic.
UPM Raflatac has released in the North American market a pressure-sensitive PP label made with a 90 percent post-consumer resin (PCR) liner. The label is attached to the bottle with the company's RW85C acrylic emulsion adhesive, which washes off in a caustic wash. After the label detaches from the bottle, the BOPP film label floats and separates from the PET.
The Association of Plastic Recyclers (APR) in June 2016 gave critical guidance recognition to UPM Raflatac for a clear or white, undecorated BOPP label with RW85C adhesive.
UPM Raflatac spokesman Scott Sowers told Plastics Recycling Update the latest announcement covers a number of new developments. First, the wash-off label is now available in the Americas and the Asia-Pacific markets. Additionally, the company has incorporated metalized film materials, making the label attractive to additional markets.
"The biggest game changer, however, is the new 90 percent PCR liner, which is unique in the pressure-sensitive label industry," he said.
APR recently announced UPM Raflatac joined the its Recycling Demand Champion campaign, which recognizes companies using PCR in products they make or use.
UPM Raflatac released a video about the new label option. Among those quoted is Byron Geiger, president of PET bottle reclaimer Custom Polymers PET.
More stories about technology