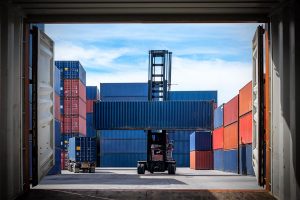 The Chinese government provides an option for pre-shipment inspections, and California lawmakers may add language about National Sword into state law. These are among the recent developments as China continues to revise its import regulations and the U.S. recycling industry reacts.
Additionally, multiple Vietnamese shipping terminals have been overwhelmed with incoming containers as a result of the market shift. As a result, they have announced new restrictions on scrap paper and plastic imports. Among the new actions is a four-month-long ban on recovered plastic imports (see related story).
The following is a summary of recent developments related to National Sword:
Inspection option: The Chinese government has effectively ended its pre-shipment inspection ban on U.S. containers bound for China.
According to the Institute of Scrap Recycling Industries (ISRI), China on Tuesday began allowing the Canadian operations of China Certification and Inspection Group (CCIC) to handle U.S. inspections. The Chinese government had previously suspended CCIC's U.S. operations for a month beginning May 4, a move that ground recyclables shipments to a halt.
CCIC's Canadian arm will be allowed to inspect and issue certificates for U.S. shipments through June 4, when the CCIC U.S. suspension ends. ISRI said it's unclear yet whether the move will allow CCIC Canada to issue certificates for containers that had been inspected but not certified when the May 4 suspension took effect.
Although the move opens the door to pre-shipment inspections, containers will still face delays when they reach China. ISRI and fiber research firm RISI both reported Chinese customs will continue to inspect every U.S. container coming into China. RISI noted that has caused "attendant bottlenecks."
Recyclables landfilled: Nearly two dozen operators handling recyclables in Oregon have requested permission to dispose of those materials since the fall. The Oregon Department of Environmental Quality (DEQ) began allowing disposal last fall as a short-term measure.
Since then, DEQ has kept a running list of what has been sent to landfill. From Oct. 1 through March 31, 10,088 tons of recyclable materials across Oregon went to landfills. That equals 5 to 6 percent of the material collected through single-stream programs. Twenty-three disposal concurrences have been issued, although some have not yet been exercised.
Contamination fine: Also in Oregon, one county will issue fines to residents who place prohibited items in their recycling carts. Marion County's recycling program has substantially altered its list of accepted items since China's import restrictions began to impact the market. The Statesman Journal newspaper reports the fines will first target materials that have never been accepted, such as plastic bags and diapers, and will eventually move to enforcing the revised list. The fines vary by city, according to the paper, and run as high as $15.45 per pickup in one area. Drivers can determine which carts are contaminated by using cameras mounted in the truck's hopper.
Ban referenced in state law: California's recycling industry has felt a particularly painful sting from China's import ban. The state's recycling department recently assured local governments the market disruption will be taken into account when considering whether they've met diversion requirements.
Now, state legislators are backing up that assurance in law. Assembly Bill 3178 adds language specifically referencing China's new policies and noting that recyclables have been landfilled as a result.
The bill adds the impact of National Sword, as well as efforts by local programs to reduce contamination and improve material quality, as criteria for state government to consider when evaluating municipalities' efforts.
Paper permits fall: China's import permits for plastic have remained extremely low throughout 2018, but paper permit tonnages have ranged from several hundred thousand metric tons up to more than 2 million metric tons. However, the most recent permit list approved the lowest tonnages of recovered paper so far this year. On May 15, Chinese officials approved 63,755 metric tons of paper imports, bringing the year-to-date total to nearly 11.1 million tons so far. They approved imports of 3,066 metric tons of plastic, for a year-to-date total of nearly 55,500.
The drop in permit tonnage doesn't necessarily have an immediate impact on import volumes: RISI recently reported actual imports of recovered fiber totaled less than half the amount approved for import so far, meaning there is a lot of unused import permits. RISI attributed the discrepancy to more stringent inspections at ports.
Plastic development: Clean PET flake will be allowed into China, instead of being considered a waste prohibited from import, according to several sources with knowledge of the situation. As is, flake is generally understood to be included in a customs commodity classification that is banned. But that will change, according to ISRI, which published official notice from the Chinese government.
According to the English translation of the notice, imported PET flake that can meet certain specifications "can replace original raw material for direct processing and utilization after import and shall not be regulated as solid waste."
The Bureau of International Recycling (BIR) and Steve Wong, executive president of the China Scrap Plastics Association, also noted the change would be taking place.
Impact of tariffs: The Trump Administration has threatened to levy tariffs on a long list of Chinese-made goods, including equipment components the recycling industry relies on. ISRI submitted testimony to the U.S. Trade Representative this month, asking that the administration consider modifying its proposal to remove specific categories of goods.
ISRI's letter described the large role machinery plays in recycling companies' operating costs and noted that up to 85 percent of crushing and grinding parts come from China. Additionally, magnets for removing metals rely on rare earth elements, the vast majority of which are supplied by China.
As of Monday, the future of the proposed tariffs was unclear. Officials from the U.S. and China released a joint statement May 19 expressing consensus on making changes to the trade relationship between the two countries. Treasury Secretary Steven Mnuchin told Fox News on Sunday that the tariffs were on hold. Still, Trump advisor Larry Kudlow told CNBC on Monday said tariffs were still on the table as a tool for negotiating or enforcing agreements between the two countries.
Photo credit: iBrave/Shutterstock
More stories about markets