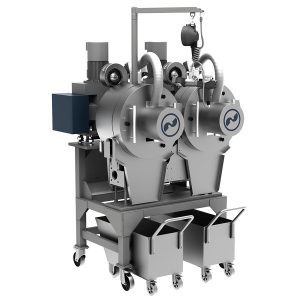 For more than two decades, Erema's Laserfilter has been used to remove contaminants from polyolefin melt streams. A year ago, the company released a PET version, and the market interest has been strong, according to the Austria-headquartered company.
"More and more processors find the smooth handling of PET melts with degrees of contamination over 1 percent, stable pressure consistency and particularly long screen service life convincing," according to the company.
In the year since its launch, the PET Laserfilter has been purchased for use in the inline sheet, strapping and pelletizing sectors. It's being used more and more in place of piston filters, particularly in the processing of PET flakes directly into semi-finished or end products, according to a press release.
A piston filter can handle between 0.05 to 0.1 percent contamination, but the Laserfilter cleans melt with more than 1 percent contamination. That provides greater flexibility with input materials, said Robert Obermayr, head of the Erema business unit Powerfil.
The screen has a service life of between five and 12 weeks. Additionally, a newly developed discharge unit for the Laserfilter reduces melt losses.
Late this month, Erema and equipment company Amut are holding equipment trials at a demonstration inline sheet facility in Novara, Italy, where Amut is headquartered (see related story).
During the May 28-31 event, customers will be able to use the inline sheet equipment utilizing the PET Laserfilter.
To receive the latest news and analysis about plastics recycling technologies, sign up now for our free monthly Plastics Recycling Update: Technology Edition e-newsletter.
More stories about technology