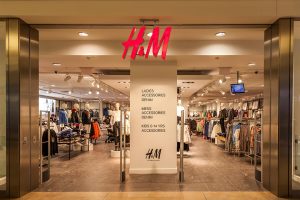 Swedish apparel giant H&M last year saw a notable drop in its consumption of recovered PET for polyester applications. But the company did report progress on marine debris, depolymerization and other initiatives.
H&M posted more than $27 billion in 2017 revenue, including value-added tax. The company operates more than 4,700 stores in 69 markets, according to its website.
In 2017, the company used the equivalent of over 100 million PET bottles in recycled-content polyester, according to H&M's annual Sustainability Report, released April 12. H&M's recycled PET usage last year was 44 percent less than in 2016, when the equivalent of more than 180 million PET bottles was used.
Last year, H&M began selling a fabric called Bionic, which is made of yarn from recycled shoreline plastics. The yarn comes from a New York City-based company called Bionic, which sells its marine plastics yarns and resins into various apparel, footwear, decor, bag and luggage, automotive, maritime and industrial markets. H&M used Bionic fabric to create a dress and other clothing for the company's 2017 Conscious Exclusive collection, which highlights sustainable materials in fashion.
Last year also brought the introduction of an H&M sustainable swimwear collection made from recycled plastic.
"Garments were created using recycled polyamide, which includes everything from old fishing nets to carpets, and recycled polyester created from old PET bottles," according to the report.
H&M worked with Danone's bottled water arm, Danone Aqua, on an Indonesia-based project titled Bottle2Fashion. "Through this collaboration, Danone collects and recycles plastic waste which is then sent to H&M group suppliers where it is turned into recycled polyester, made into products and sold in H&M stores," according to the report.
For the 2018 edition of the collection, H&M is using a material it calls Econyl, which uses recycled fishing nets and other scrap nylon to create a 100 percent recycled-content fiber. The Econyl brand is owned by Italian company Aquafil, which uses a depolymerization process to break down nylon into its components, which are then used to make new plastic for various applications. Last fall, Plastics Recycling Update interviewed Aquafil's CEO about the company's $10 million project to build a plant in Arizona. That facility will recover nylon from carpet.
Besides its usage of recycled plastic, H&M in 2017 signed on to a European Union-funded project researching microwave depolymerization. The Depolymerization by Microwave Technology (DEMETO) project aims to advance chemical recycling of PET, including polyester textiles. Plastics Recycling Update previously reported on the research.
Top photo credit: JHVEPhoto/Shutterstock
To receive the latest news and analysis about plastics recycling technologies, sign up now for our free monthly Plastics Recycling Update: Technology Edition e-newsletter.
More stories about brand owners