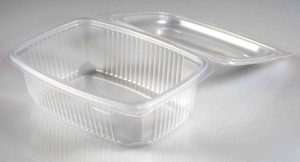 Packaging and industrial products company Sonoco will acquire a Florida thermoformer that uses high levels of RPET flake in its products.
The publicly traded company announced it has signed a deal to buy Highland Packaging Solutions for $150 million in cash. Based in Plant City, Fla., Highland is a privately owned maker of thermoforms for fresh produce and dairy products. With one production facility and five warehouses across the U.S., Highland had net sales of about $90 million last year.
Highland runs a minimum of 70 percent recycled content in its extruded products, according to its website.
Headquartered in Hartsville, S.C., Sonoco is heavily involved in recycling. The company runs collection and sorting operations that handle about 3 million tons per year. It also owns Peninsula Packaging, a thermoformer with five production facilities in California, North Carolina, Washington state and Mexico. Peninsula Packaging also uses RPET in its products.
The Sonoco-Highland transaction, which is subject to normal regulatory review, is expected to close in the second quarter, according to Sonoco.
Photo credit: sylv1rob1/Shutterstock
More stories about PET