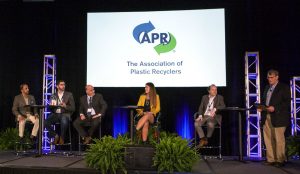 A robotic sorting system, PET packaging breakthrough and melt filter advancement took the limelight in this year's Plastics Recycling Showcase.
The Association of Plastic Recyclers (APR) recognized three projects as part of the third-annual showcase event. They were announced at the APR Technical Forum, which was held in conjunction with Plastics Recycling 2018 in Nashville, Tenn. in February.
"These companies exemplify the tremendous innovation happening across the packaging and equipment platforms that support the growth of plastics recycling," Steve Alexander, president of APR, stated in a press release. "We are grateful to this year's innovators, and look forward to working with the industry to continue promoting new technologies that provide additional pathways to sustainability."
The 2018 Plastics Recycling Showcase projects were the following:
Robotic sorting
NRT's Max-AI AQC (Autonomous Quality Control) robotic sorting system identifies materials on a belt based on their visual characteristics. The system uses a delta robot to achieve up to 65 picks per minute, and it can sort up to six different materials.
"This innovation allows MRFs (materials recovery facilities) and PRFs (plastics recovery facilities) to run longer with lower operational expenses, produce more products with increased purity, capture accurate data for reporting and dynamic optimization and adapt over time to the changing material mix without major capital expenses," according to a project write-up.
Bulk Handling Systems, parent company for NRT, recently posted a press release about Max-AI's inclusion in the showcase.
New PET bottle
The Coca-Cola Co. worked with plastic producer Indorama Ventures and converter CKS Packaging to create a new recyclable bottle for Simply brand juices.
The 89-liquid-ounce bottle uses Indorama's PolyClear EBM PET 5507 resin, which can be molded using shuttle extrusion blow-molding equipment. The new PET allows for the replacement of PETG to make the bottles. PETG can gum up the PET recycling process. The development of the polymer itself was recognized in the first Plastics Recycling Showcase in 2016. The year before, it had received APR Critical Guidance recognition confirming its recyclability in the PET stream.
The 89-ounce Simply juice bottle is the first commercial application for the plastic. Coca-Cola recently wrote about the bottle conversion project.
Melt filter technologies
Italian company Fimic was recognized for advances in melt filtration equipment. The company's RAS continuous melt filter uses a unique scraping system to remove contamination. Two flexible steel blades scrape across either punched or laser-drilled disc screens and convey contaminants to a discharge valve.
Laser drilling technology has allowed for the creation of fine-filtering screens (down to as small as 80 micron/160 mesh) to serve the blown-film market.
The company's ERA continuous melt filter, an evolution of the RAS, was developed to serve the need to filter heavily contaminated streams. Fimic created a double-filtration chamber in one filter body. The first filter, a punched screen, acts as a safety filter, removing coarser contaminants so they can't reach and damage the more expensive laser-drilled screen.
The ERA will be installed for the first time in 2018.
To receive the latest news and analysis about plastics recycling technologies, sign up now for our free monthly Plastics Recycling Update: Technology Edition e-newsletter.
Visit the Plastics Recycling Conference website for more information on attending, sponsoring and exhibiting at North America's largest gathering of plastics recycling professionals. 
More stories about technology