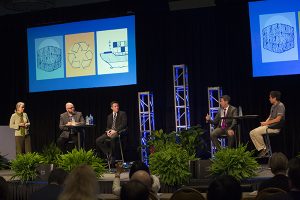 During a plenary session at the Plastics Recycling Conference last week, major exporters opened up about alternative markets, quality improvements, and operational and contractual changes they've made in response to China's import restrictions.
Although some exporters say they're waiting to see whether China makes more changes before adjusting their operations, others, including the nation's largest hauler, are moving forward under the assumption China maintains its current course. As of this year, many types of scrap plastic are banned from import into China, and most materials that aren't banned will be limited to 0.5 percent contamination beginning in March.
"I don't see China necessarily reversing any of the bans they have in place today, and I think we're conducting business as though that ban is in place, 0.5 (percent) is in place," said Brent Bell, vice president of recycling at Waste Management. "And we have to look for, if it's banned material, for alternative markets, and if it's not banned material, we have to look to make that kind of quality."
Recycling leaders from Waste Management, Fosimpe SL and Newport CH International had a broad discussion of the new plastics recycling market during the conference session. They also shared their views on the driving forces behind China's decision to restrict scrap plastics.
"They basically just want this industry gone," said Hamilton Wen, director of the plastic division at Newport CH. "It was a matter of time, basically. We just didn't know if it was one year, two years, five years, whatever, but we all knew at some point it would get to this."
The company representatives were joined by Dylan de Thomas, vice president of industry collaboration for The Recycling Partnership, in the session moderated by Patty Moore, a longtime recycling expert who currently runs Sustainable Materials Management of California.
Reshifting strategy
Newport CH International, like many exporters, has made dramatic operational changes since the ban impact started to spread.
The company acts as a broker, so it tries to find markets offering the best price and stable demand. For the past 20 years, that has consistently been China, Wen said. The only variation was where inside China the company would send the material.
"Now, that's completely off the table as far as scrap, so we've had to completely reshift, and look for new markets basically anywhere in the world," Wen said. "Places we've never looked for previously, but now we're having to travel to look for processors, look for end users. It's pretty much a complete upheaval of our entire plastic brokerage business."
Wen said there are not enough end users to handle all the material on the market, so they are able to demand higher quality, whereas it used to be a seller's market.
Wen predicts markets will develop for low-grade plastics, although they will take time to develop. He said there is already a little more demand coming back for the materials as a result of market development that's taken place since the ban, and that further development is currently underway.
"I think it's really more of a question of what price the suppliers are willing to accept," he said. China paid a certain price, which is now dramatically lower across the board. Companies will have to decide whether it makes economic sense to handle the low-grade materials.
When the ban impact began to be felt last fall, there was a major scramble for Southeast Asia, Wen explained. Players across industry sectors were trying to set up operations in Malaysia, Vietnam, Thailand and more.
"It's very tenuous, because there's just a huge influx in volume shipped there," Wen said. He cited figures showing Southeast Asian import increases of 300 to 400 percent in 2017, even before the ban officially took effect.
The volume shift could give rise to new troubles as well. China has had inspection protocols and laws on the books for scrap imports for years, and it still found major problems with its waste imports. Many Southeast Asian countries do not have the same import protocols, and "people are kind of shipping whatever they want," Wen said.
"It's going to be a huge problem for these countries, they're not really prepared for it," he said.
Wen says it's only a matter of time before Southeast Asian countries take similar steps as China.
"The way it's going now, just the huge influx of material going to these smaller countries compared to China – let's be honest, smaller ports, smaller everything – you're trying to divert everything you were shipping there to these places. Something for sure is going to happen," he said.
Domestic viewpoint
Pablo Leon, Asia manager for Spanish broker Fosimpe, echoed that point, describing heavily congested ports around Southeast Asia. In Malaysia, he said, shipments used to clear customs in one week, but now they sit for over two weeks. Similar scenarios are playing out in Vietnam and Thailand.
In addition to the logistical problems, Leon touched on the lack of quality standards.
"Eventually, they will have to regulate, at least, the industry," he said.
Besides an effort to clean up pollution, the import ban has been described by Chinese authorities as a way to boost domestic collection of recyclables. Leon, who works out of Fosimpe's China office and lives in Shanghai, said that push has been underway for the past couple years and has successfully increased collection of PET bottles and agricultural film.
But, he said, China's economy relies highly on exports of finished goods. It would be difficult for the country to collect all recyclables generated domestically, but even if China collected everything it generated, it wouldn't be enough to meet the raw material demand for manufacturing.
Leon touched on the contamination thresholds China has set for materials not covered by the ban. Contaminants in loads of most recyclables that are still accepted for import will be limited to 0.5 percent beginning in March. Leon said the standards should be tailored more to take into account each individual resin type, rather than an across-the-board flat percentage standard.
For example, PET that gets recycled into fiber is very different from HDPE that gets processed for use in pipe manufacturing or LDPE for blowing films, but the new standards treat them like the same material.
"It's not going to help to set up better recycling capacity," Leon said.
Capital spending
The largest hauler in the U.S. has also shifted its strategy in response to the market disruption. On the plastics side, Waste Management has had trouble moving lower-grade materials, particularly mixed bales, Bell said. The company has tried to extract more value from those bales, in some cases separating out PP, he said.
"But there is always going to be certain low-value streams in our residential programs, and that's where we'll have to just have to have the conversation," Bell said. "Unless the demand is there, we really need to work with that municipality or that customer to see if that's the kind of products that they still intend to recycle."
Bell reiterated WM's call for more education to the public, but also described new equipment investments the company has made, noting that "technology is definitely what's going to help us out."
The company recently evaluated its capital spending plan for 2018. It is three times the dollar figure it was two years ago, Bell said. Any planned projects that would not improve capture rate or quality were removed from the list. The company has been working with equipment vendors to bring in the latest technology available, Bell said, whether it's optical sorting units or even robotics.
On the economics side, the company is looking first to improve the quality to a saleable level by any means necessary, and then figure out the financials of "how that's going to roll downhill," Bell said.
"I would assume that with this, it's just going to mean essentially the contract costs will be higher, the processing costs will inevitably go up, just because of that investment that many processors will have to do to get that clean of material that's required," he said.
As an example, Bell pointed to mixed paper costs. He said the company has added nearly $20 per ton in processing costs to handle mixed paper, which is only netting a $20 per ton value.
"It's a pretty steep headwind that we've got coming at us," Bell said.
Programming changes
In some circles, the Chinese ban can be traced back to the rise of single-stream recycling in the U.S. The all-in programs ensure higher collection volumes, but that often comes at a price of higher contamination rates.
The Recycling Partnership's de Thomas said quality is key and that it starts at the curb. In some cases, rather than specifically tackling contamination, programs have removed certain plastics from their accepted materials lists.
"They are collecting a lot of disparate materials, so it can be a real challenge for them," de Thomas said.
Tweaking material lists can improve quality, but that's only a part of the whole equation, de Thomas said. Reducing contamination helps bolster the supply side, but demand is the other major component. He pointed to the Association of Plastic Recyclers' Demand Champions initiative and the Plastics Industry Association's New End Market Opportunities (NEMO) project as examples of positive steps on that side of the supply-demand relationship.
Although the ban has led some municipal programs to make changes in what they collect, the experts onstage shied away from predicting a retreat from the popular single-stream format.
"I think that ship has sailed," Bell said, pointing out some of the inefficiencies Waste Management experienced in dual-stream programs. He acknowledged challenges with rolling out 96-gallon carts and telling customers to put everything in that bin, but he noted that's more about education than the single-stream concept itself.
Bell said Waste Management is bringing the quality discussions into contracts with municipalities as well, noting that the company is tightening up the amount of contamination it allows for its customers before it begins charging extra.
He also described some contracts that allow Waste Management to use cart tags notifying a household it has a contaminated cart. Some contracts even include a "three strikes" clause allowing the company to remove households after a certain number of contamination instances.
"We're going to be more aggressive with those type of standards to make sure the material we get in is of cleaner quality," he said.
More stories about exports