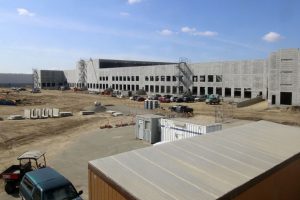 Readers last month were drawn to news of a large-scale PET recycling facility coming to California, as well as stories about China's ban, ocean plastics and more.
The list below shows our top stories published in October in terms of unique page views.
1 | Advanced RPET plant on the way near LA
Construction is underway on a massive Los Angeles-area plastics recycling facility that will take PET bales all the way to bottle preforms, extruded sheet and thermoform packaging.
2 | Mixed rigids feel the effects of China's ban
China's import policy changes are straining recovered plastics export markets, particularly impacting mixed rigids. Recycling companies have been forced to stockpile and even landfill the materials, while numerous municipal programs have stopped accepting mixed plastics.
3 | $150M pledged to fight SE Asia ocean plastics problem
Major brands, nonprofit organizations and industry groups will raise $150 million to boost the collection and recycling of plastics that may otherwise become marine debris.
4 | California identifies 'priority' packaging for mandatory policy
Film, expanded polystyrene and pouches are among the materials and products California officials say could be subject to mandatory packaging management rules.
5 | Activists and Dow spar over Hefty EnergyBag program
Anti-incineration activists are criticizing an industry program that diverts traditionally non-recycled plastics away from landfill and into energy-recovery facilities. In response, project backer Dow Chemical Co. has defended the program's utility.