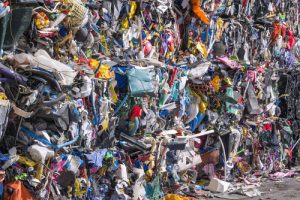 China's import policy changes are straining recovered plastics export markets, particularly impacting mixed rigids. Recycling companies have been forced to stockpile and even landfill the materials, while numerous municipal programs have stopped accepting mixed plastics.
Chinese import permits have not been renewed since May, slowing and, in some cases, halting shipments of certain recovered materials to the country. Although the language of China's initial announcement to the World Trade Organization (WTO) describes an official Jan. 1, 2018 implementation date for a ban on imports of certain recovered plastic, fiber and metal grades, the U.S. recycling industry is already feeling the impact in a big way.
Plastics Recycling Update spoke with a handful of industry stakeholders about the ban's impact to date and found that communities across the U.S. are being affected.
Low-value plastics languish
Mike Pope, president and general manager of Sonoco Recycling, explained how his Hartsville, S.C.-based company is reacting to the global supply chain shocks precipitated by China's actions. Sonoco Recycling is part of global packaging and industrial products maker Sonoco and is involved with curbside collection, sorting and recovered commodity sales.
While Sonoco is feeling the biggest impact of China's actions on its ability to sell recovered mixed-paper bales, it's also struggling to manage mixed bulky rigids, Pope said. The bales, which contain a variety of plastic items pulled off the presort line at materials recovery facilities (MRFs), are already low-value, Pope said.
"It's now a question of can you move it at all, rather than what's the price," Pope said.
He expects Sonoco may be faced with the inability to move mixed bulky rigids in a matter of days, not weeks or months, he said.
China was a big consumer of 1-7 and 3-7 bales, which are produced by Sonoco Recycling in relatively small volumes. While the company is still able to move some of it to market, some has ended up as residue sent for disposal, Pope said.
The company hasn't experienced any problems with PET and HDPE. "There is a very robust domestic demand for PET and HDPE products," Pope said. "There's no issue there whatsoever."
Sonoco is also an end market for recovered PET and HDPE, although it purchases recycled PET and HDPE from reclaimers and doesn't break open bales produced by Sonoco Recycling, Pope said.
Friedman Recycling, a Southwest U.S.-based MRF operator, has also experienced impacts to mixed plastics Nos. 3-7.
"What we've found is the China market has virtually evaporated," company CEO David Friedman explained.
As a result, alternate domestic and international markets have become saturated with the materials, he said, meaning quality requirements have increased and prices have fallen. Buyers in alternate markets, including India, Korea, Malaysia, Mexico and Vietnam, have been inundated with offers, driving up the competition among sellers.
Friedman expects the Chinese markets will eventually return, as the demand remains strong and the disruption is driven by regulation rather than economic forces. But he predicts the cost to process the material will rise with higher quality demands.
For the time being, he said his company's priority is to keep the low-grade plastics moving to domestic markets. To the extent the company is able to move the mixed rigids, the materials are moving to domestic markets. The company has storage space and is equipped to hold onto materials if there's a short-term disruption of downstream outlets, Friedman noted.
"We just build that in, from experience," he said.
Ripple effects
Other companies and municipal programs across the country are in a similar boat.
Madison, Wis. announced last month its drop-off recycling program has stopped accepting mixed rigid plastics due to the ban. Far West Recycling in the Portland, Ore. metro area has stopped accepting film, rigids and all mixed plastics Nos. 1-7, leaving only PET and HDPE bottles as accepted materials. Oregon's Department of Environmental Quality is facilitating discussions between recycling stakeholders and says the China policies may lead the agency to approve disposal requests for landfill-banned materials "on a large scale" for the first time.
And in California, materials have begun stacking up as facilities struggle to locate buyers. Vahe Manoukian of Plastic Recycling Corporation of California (PRCC), a buyer and seller of recovered PET bottles, described conversations with many large plastics processors who have no outlet for their products. Those processors, in turn, have told MRFs they can't accept the affected materials, leading some MRFs to stop baling those recyclables.
"We're seeing MRFs basically not sort this material, just let it go on the line and it's going to the landfill, which is very sad, but that's the reality that's taking place as we speak," he said. "It's pretty dire out there."
PRCC sells most of the PET it handles domestically and has so far not been substantially impacted by China's actions. But its position in the California recycling industry allows it to observe trends in West Coast materials movements.
In a related trend, for the last six months certain processors were taking low-grade plastics for a low fee, Manoukian said. They had space and were essentially stockpiling material in hopes of China opening back up as a downstream outlet.
"Now, those facilities are out of room," he said.
More companies may be faced with the stockpiling decision as China dries up as a downstream destination. Pierpont said New Mexico's hub-and-spoke model may benefit its processors, because the model allows a greater deal of flexibility for changes compared with larger municipal contracts. Under the hub-and-spoke model, regional facilities often handle lower volumes of material than their large municipal counterparts.
"That flexibility right now is really important for programs," Pierpont said.
In some cases, companies are looking elsewhere in the global marketplace for a downstream outlet. Experts point to Southeast Asia, India and more as possible replacement markets to absorb some of the market void.
"We've also seen material that used to go to China pretty consistently going to other export markets," said Ellen Martin, vice president of impact and strategic initiatives at Closed Loop Partners. "So that's kind of an interesting thing — are we seeing that (exports are) just rebalancing? Or is it really going to change fundamentally how much material gets exported, period?"
Domestic downstreams
Across the board, industry members say they hope the ban leads to increased domestic processing. In some cases that shift is already happening on a low level. Manoukian said PRCC has been able to drive up the quality of B-grade PET it receives from MRFs, primarily by educating them on how to produce a cleaner stream.
"We have worked with multiple MRFs and they have managed to increase their quality to a level where we call it 'B-plus' and we're able to sell it domestically," Manoukian said. For some MRFs, he added, that may be impossible due to older equipment or particularly contaminated feedstock.
Beyond education, experts anticipate the ban will drive increased domestic investment in recycling infrastructure. Some companies have applied for California state grants to increase domestic processing capacity. Sally Houghton, also of PRCC, pointed to the large expansion in PET processing capacity in California in the past decade, from a couple companies up to eight. A similar processing expansion could develop for other materials, she said.
Martin recalled the timing of the fall 2014 launch of the Closed Loop Fund, noting the fund's impetus was at least partially tied to fallout from Green Fence, the previous year's Chinese imports crackdown action. The fund works to drive investment across multiple sectors of the recycling industry and has put money into several projects increasing U.S. processing and end-market capacity.
"I think, in the near term, it's clearly causing anxiety and stress for operators, and we want to make sure their business models can weather the storm," Martin said. "But I think in the long run this will force some upgrades in infrastructure and get us to the point where we can actually create better quality material, which means we don't have to ship around garbage."
More stories about exports