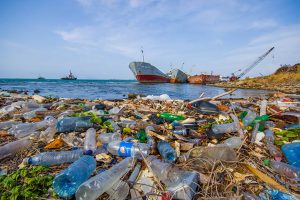 Major brands, nonprofit organizations and industry groups will raise $150 million to boost the collection and recycling of plastics that may otherwise become marine debris.
Announced today, the new initiative will raise money to fund waste management and recycling solutions in Southeast Asia, a region that contributes greatly to the global ocean plastics problem. Supporting the effort are the Ocean Conservancy, Trash Free Seas Alliance and Closed Loop Partners.
Closed Loop Partners, which has invested in recycling infrastructure across the U.S. to boost materials recovery, will manage the funding for the ocean plastics prevention effort.
"Through this initiative, we will invest in and support the municipalities, entrepreneurs, investors and NGOs working to reduce ocean plastics and improve waste management in Southeast Asia," Rob Kaplan of Closed Loop Partners stated in a press release.
The initiative will focus on investments to improve collection, sorting and recycling markets for Southeast Asia. Nearly half of the plastic that flows into the ocean every year comes from waste streams in five countries: China, Indonesia, Philippines, Thailand and Vietnam.
"This is a major breakthrough in the fight for trash free seas," Susan Ruffo, managing director of international initiatives at Ocean Conservancy, stated in the release. "Our research has found that by improving waste management in Southeast Asian countries, we can cut the flow of plastic going in the ocean by half by 2025. A funding mechanism will take this goal from dream to reality, and support efforts by governments and local groups on the ground to improve their livelihoods and well-being while also improving ocean health."
Some major names are behind the dollar commitment. The Trash Free Seas Alliance is made up of 28 nonprofit and for-profit organizations. Five members of the group have already pledged enough money to fully fund the design phase of the effort: PepsiCo, 3M, Procter & Gamble, the American Chemistry Council and the World Plastics Council.
The goal is to share the results of the initial phase of work within the next year, according to the release. That will help attract more investors.
The initiative was announced in conjunction with the Our Ocean 2017 conference, an Oct. 5-6 gathering of world leaders in Malta.
More stories about challenging materials