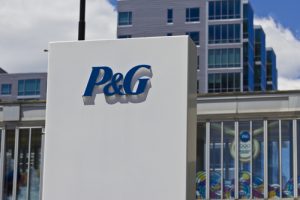 Global consumer goods company Procter & Gamble used 34,400 metric tons of post-consumer plastic during the 2016-17 fiscal year, bringing it nearly one-third of the way to its 2020 goal.
The Cincinnati-headquartered company aims to double its use of post-consumer resin (PCR) between 2010 and 2020. In 2010, it used about 26,071 tons of PCR, so its goal is to use about 52,142 tons annually by 2020.
Procter & Gamble (P&G) has steadily increased its use of PCR in recent years. During the 2015-16 fiscal year, it used 34,100 metric tons, up from 32,200 metric tons in the 2014-15 fiscal year. The relatively small increases in PCR usage are emblematic of industry-wide trends. As a recently released U.S. bottle recycling report showed, pricing and contamination issues have stalled growth in tonnages of plastics recovered and sent to end users.
P&G's latest sustainability report detailed some of the company's specific projects to boost its PCR use. For example, it plans to make its transparent Lenor brand laundry product bottles sold in Europe with 50 percent PCR. "With this change, our European Fabric Enhancers will use more than 2,700 tons of recycled plastics in the next year," according to the report.
More broadly, P&G has a goal of incorporating 25 percent PCR into more than half a billion hair care bottles in Europe – or 99 percent of all hair care bottles sold on the continent – by the end of 2018, according to the report.
The company has also used recycled plastics recovered from shorelines. Last summer, it sold Head and Shoulders bottles in France made with 25 percent ocean plastics. P&G recently announced it would put on UK shelves Fairy brand dish soap bottles with 10 percent ocean plastics and 90 percent PCR recovered via traditional recycling channels.
P&G wants to ensure that by 2020 at least 90 percent of its packaging is considered recyclable or programs are in place to recycle it. During the 2016-17 fiscal year, it was at 86 percent.
More stories about brand owners