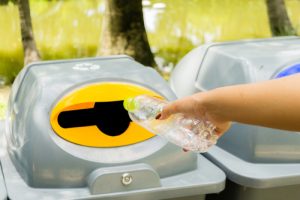 Plastic bottle recycling was a difficult business to be in last year, with negative trends seen in collection, processing and pricing, according to an annual report on the industry sector.
"2016 was not a particularly good year," said Dave Cornell, technical consultant for the Association of Plastic Recyclers (APR). The industry association and the American Chemistry Council (ACC) jointly released the latest national post-consumer plastic bottle recycling report this week.
The U.S. bottle recycling rate fell 1.4 percentage points to 29.7 percent in 2016. The groups point to declining collection volumes, rising contamination and shifting export markets as factors contributing to the decline.
Collection drops
While the total amount of resin used to make new bottles grew, collection of used bottles shrank. Those diverging numbers led to an overall collection of about 2.9 billion pounds out of nearly 9.8 billion pounds of resin sold onto the market for bottle production. The 29.7 percent recycling rate was down from 31.1 percent in 2015. That figure was down slightly from 2014, which concluded 20-plus years of growth.
Collection figures decreased for both PET and HDPE bottles, which together make up 97.1 percent of the domestic plastic container market. PET collection dropped by 44 million pounds, and HDPE collection dropped by 31.7 million pounds. Cornell described both those figures as "significant" numbers that could not be attributed to statistical error.
PP collection, however, rose by 4.8 million pounds from 2015 to 2016. In 2015, PP container collection tonnages equated to 17.9 percent of total PP container resin put on the market. That figure rose to more than 20 percent last year.
Despite the negative trend, a press release from ACC and APR points to a compound annual growth rate of 2.1 percent over the past five years, meaning the decline has not been enough to offset the recycling growth in recent years.
Multitude of challenges
Bale prices across the board were depressed in 2016, Cornell said, which he attributed to the crude oil price dropping 16 percent from the previous year.
"What we saw was recycled materials had to sell at competitive prices," he said. "The prices dropped, [and] as the prices dropped there was pressure exerted on all aspects of the recycling stream, from the collection through the processing through the use."
"Saddle that with contamination issues which we've seen for many years, and it's a very tough business to be in in 2016," Cornell added.
Contamination presented "an ongoing challenge to reclaimers" of both HDPE and PET bottle bales, the report stated. HDPE bale yields averaged 79.1 percent in 2016, compared with 80 percent a year earlier and 81.8 percent two years prior. PET yields varied widely based on the source of the bottles, from the mid-60s to the mid-70s percentages.
The use of lighter-weight bottles also negatively impacting recycling collection, according to the report.
"Lightweighting helps companies to meet economic and sustainability goals and is a relentless force in bottle making," the report states. But, it adds, "recycling is denominated by weight and reduced weight per container adversely affects recycling economics."
Where the material goes
Exports back in 2008 were in the 40 to 50 percent range, meaning almost half of material collected was being shipped out of the country. But in the past nine years exports have declined markedly.
In 2016, exports across the board decreased by 37.6 million pounds from a year earlier, meaning about 20.1 percent of collected bottles were sent out of the country. By resin, HDPE exports grew slightly, whereas PET and PP exports declined.
For both HDPE and PET, end-market trends varied by product. Bottles and pipe – the largest markets for recycled HDPE container plastics – shrank as a portion of the end-market sector. Film, sheet, crates and buckets also shrank, but the lawn and garden, automotive and decking sectors grew as downstream outlets for recycled HDPE containers.
For PET, bottle, fiber, and strapping increased as end markets, whereas sheet and film fell.
More stories about research