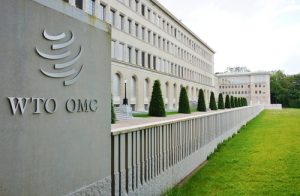 Government officials have confirmed they are monitoring China's import policy changes and are joining industry associations in seeking clarification from Chinese authorities.
Delegations from five World Trade Organization (WTO) members – Australia, Canada, the European Union, South Korea and the U.S. – questioned China on its imports ban during a meeting of the WTO's import licensing committee on Oct. 3.
U.S. exporters have reported China has not renewed import licenses, leading to massive market disruptions. The move has effectively led to early implementation of import restrictions that are officially slated to begin Jan. 1. But the freeze on license issuance has also meant materials not named in the ban language, such as OCC, are also having trouble entering the country.
The U.S. is represented at the WTO by officials from the U.S. Trade Representative's office, the Department of Agriculture and the Department of Commerce.
During the Oct. 3 meeting, the U.S. delegation said it has "significant concerns with the changes to import licensing surrounding China's implementation of an existing import ban on plastic and paper scrap," according to a WTO summary.
The Canadian delegation related how the import restrictions "were already creating issues for its traders" and wanted Chinese officials to clarify the specific products the country intends to ban from import.
"China's delegation responded that it will forward these concerns to its capital for consideration," according to the WTO.
Meanwhile, a committee tasked with reporting to Congress on trade issues has taken interest in the Chinese policy changes. The U.S.-China Economic and Security Review Commission included a report on China's actions in its October 2017 Trade Bulletin. The report cites the economic impact of the recycling industry as identified by the Institute of Scrap Recycling Industries (ISRI).
It also criticizes some of China's rationales, describing the import restrictions as "environmentally dubious," but it doesn't advise any specific action U.S. officials can take to soften the blow of the ban.
More stories about exports