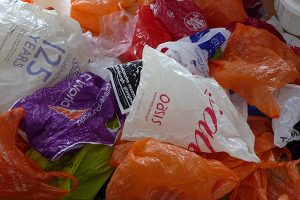 A study in Europe found that degradable plastics and substances used in them cause noticeable damage in recycled-content plastic films.
Plastics Recyclers Europe (PRE), a trade group, said that even low quantities of degradable plastics result in holes and specs in recycled conventional PE films. The group pointed to the results of a trial that compared the quality of recycled films from Northern Europe with those from Southern Europe.
"Waste streams in the south of Europe pose a quality issue in films with recycled content production due to a higher share of degradable plastics," according to a press release.
In the study, the feedstock consisted of 1,000 metric tons of recycled materials from the two regions. With an input made up of 98 percent natural PE films and 2 percent colored PE films, reclaimers generated recycled plastics that were later converted into 50-micron-thick films.
The films created from the southern European material contained holes and specks. Analysis via infrared, thermal and gas chromatography mass spectrometry showed that most of the quality issues were a result of substances found in degradable plastics, including starch, polylactide in PLA and/or polybutylene adipate terephthalate (PBAT).
Keep 'em separated
PRE said the push toward increased use of degradable plastics is expected to exacerbate the problems found in the study.
"Therefore, PRE calls the authorities to assess the overall impact of degradable plastics on the conventional streams and to develop separate collection for both bio-waste and degradable plastics in order to avoid putting in jeopardy the efforts of making plastics more circular," according to a press release.
The Association of Plastic Recyclers (APR) took aim at lookalike items made of incompatible materials.
"Materials choices that preclude the successful isolation and recycling of items or interfere with the successful recycling of other items need re-examination and correction," Steve Alexander, APR's president, said in a statement. "Films made of materials other than polyethylene that are confused with polyethylene films are examples of poor decisions."
He echoed the call to keep polymers that readily degrade separate from collections of recyclable PE films.
"The use of degrading materials films should include structural steps to prevent contamination of recyclables including labeling, separate collection, and targeted and controlled usage," Alexander said. "We cannot depend on the public making correct solid waste decisions without significant stewardship efforts by those who make and use degradable plastics for films."
Conflicting claims
Recycling stakeholders have long worried the public may toss degradable plastic products into recycling receptacles, potentially damaging recovered resin quality. A 2012 report by the Pacific Northwest Pollution Prevention Resource Center summarized criticisms and defenses of one category of degradable plastics: oxo-degradables. A 2013 report by the state of North Carolina suggested the state takes steps to keep degradable plastics out of the conventional recycled plastics stream.
The Institute of Scrap Recycling Industries (ISRI) recently passed a policy statement on degradable additives.
"By their very nature, degradable additives are meant to shorten the service life of the plastics that they're added to," Jonathan Levy of ISRI wrote in a recent op-ed for Plastics Recycling Update. "For this reason, there may be questions as to the quality of this material."
Last year, a maker of oxo-degradable additives, U.K.-based Symphony Environmental Technologies, pushed back. It released the results of two studies by an Austrian plastics testing center that showed oxo-degradable plastics can be effectively used in recycled-content films and building products. Symphony took aim at "compostable" plastics, however, saying they harm the quality of recycled plastics.
"The purpose of oxo-biodegradable plastics is that they will biodegrade if they get into the open environment as litter, and will not lie or float around for decades," according to Symphony. "During their useful life they are just as strong as conventional plastics, and can be recycled if collected."
More stories about Europe