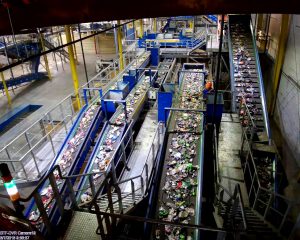 Last month, readers were drawn to content about a much-publicized plastics recovery facility suspending its operations and a beverage company's interest in supporting recycling infrastructure.
The list below shows our top stories from August in terms of unique page views.
1 | QRS and Canusa Hershman will idle Maryland PRF
A joint-venture plastics recovery facility in Maryland has suspended operations, citing challenges in the post-consumer plastics industry and pointing to a need to upgrade its equipment.
2 | China offers clues on what will (and won't) be allowed in
Chinese authorities have released more specifics about which materials are likely to be affected by a proposed import ban on recovered materials. The action is expected to be implemented at the end of this year.
3 | Q&A: PepsiCo addresses packaging to meet GHG goals
A beverage giant wants to increase recycling rates so it can use more recycled content in its packaging, and the company recently joined The Recycling Partnership to further push toward that goal.
4 | Q&A: Plastics-to-fuel exec on China ban and sector's potential
RES Polyflow's Michael Dungan says fluctuating oil prices and developments in Asia will continue to affect pyrolysis companies, but he thinks a bigger issue may be a regulatory landscape that he believes is dated and detrimental to technology adoption.
5 | Unifi set for further growth in PET recycling business
A major end user of recovered PET boosted its revenues last year, as it works to expand its recycled-plastic fiber brand and move into new recycling markets.