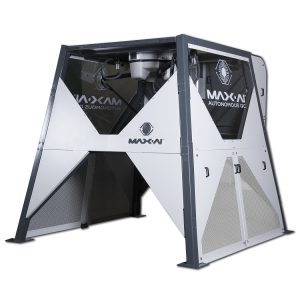 In the not-too-distant future, artificial intelligence may see and control all that's happening in a recycling facility. But first, it's going to do some work on a quality control line.
Eugene, Ore.-based equipment company Bulk Handling Systems (BHS) recently announced it has installed its first artificially intelligent robot. The Max-AI Autonomous QC robot is working behind an optical sorter at a Los Angeles materials recovery facility (MRF) to remove contamination from the PET plastic stream.
Development of the technology – and its first commercial deployment – were the result of a year-and-a-half-long collaboration with Spain-based robotics startup Sadako Technologies.
It was the second major announcement of a robot working to sort residential recyclables in the U.S.
In March, partners in a separate project announced the deployment of an artificially intelligent robot named "Clarke" at a Denver-area MRF. Created by Colorado-based startup AMP Robotics, Clarke is picking cartons. Both robots used strictly visible light cameras – as opposed to more expensive NIR sensors – connected to computers with image-recognition abilities.
BHS officials say the Max-AI technology is about more than just a robot cleaning up the PET stream. BHS and Sadako are working to refine the technology so it can be deployed in other sorting functions – quality control on a fiber line and pre-sort functions, for instance – as well as incorporated into the computer brains of an entire facility.
"One of our main messages here is that Max-AI is the overriding brain that's going to drive all of those solutions," said Brian Wells, director of product management for the BHS family of companies. "Max-AI is going to become the central nervous system for these plants."
Deployed at mixed-waste operation
The Max-AI Autonomous QC robot has been installed at a mixed-waste MRF operated by Athens Services in Sun Valley, a neighborhood of Los Angeles. Resource Recycling magazine featured the 80,000-square-foot facility outfitted with BHS equipment in its March issue.
Installed the weekend of April 8-9, the robot is removing contamination from the PET line. It is dropping different materials into three chutes, averaging up to 65 picks per minute, said Peter Raschio, marketing manager for BHS.
Wells noted that the robot is able to remove PET thermoforms from the PET bottle stream, which is particularly important in California because state government pays beverage container redemptions for bales of bottles.
Max-AI builds on the Sadako's early work (Sadako was one of the recycling robot pioneers featured by Resource Recycling magazine in June 2016). BHS brought various resources to help further develop and commercialize the robotics technology. That included the expertise of BHS and its optical sorter company, National Recovery Technologies (NRT).
"It took the resources of Sadako, NRT and BHS to actually make this a reality," Wells said.
In fall 2016, a full-scale prototype robot was installed and tested on a sortation line at NRT's manufacturing plant in Nashville, Tenn.
The mechanical system is an off-the-shelf delta-style robot made by international company ABB Robotics. That style of robot is capable of achieving short cycle times and high pick rates. ABB also supplied the robot for Clarke in Denver.
'Central nervous system'
The true robotics advancement is in the software and processing capabilities, including the ability of software to "learn" what different items look like by examining thousands of digital photos and the power to process the abundance of data quickly.
Recognition abilities in the Max-AI Autonomous QC robot in Sun Valley, for example, were based partly on hundreds of thousands of images of material coming down a conveyor belt at the facility, Wells said.
"The arm is just a tool," he said. "It is the artificial intelligence that is the true leap forward here."
And those AI capabilities may leap into the "central nervous system" of a BHS-outfitted facility, according to BHS. The computer and visioning systems could run a MRF by monitoring streams in real time and adjusting equipment.
"This is just the early, early phase of what Max-AI is going to become," Wells said. "This is just a taste of where this is going to be three, four or five years from now."