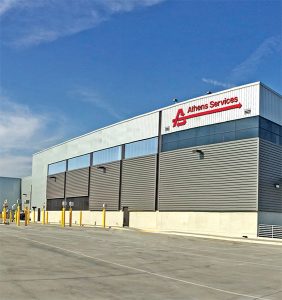 If one's man's trash is another man's treasure, then Athens Services' MRF is the other man.
The mixed-waste processing facility has been known to profit off the discards from single-stream MRFs.
"In several cases, we've taken the residue from recycling companies and recovered enormous value from their lack of processing effectiveness," said Riel Johnson, general manager of Athens Services. "With such high-quality bales, we've been able to bring in new buyers within markets that are currently slowing nationwide."
The 80,000-square-foot facility is located in Sun Valley, a neighborhood of Los Angeles near the city of Burbank. Some of the materials are generated by 12,000 households in the unincorporated area of Altadena and the city of La Cañada Flintridge. The rest of the MRF's feedstock comes from commercial sources in Los Angeles and surrounding cities, some of it as mixed-waste and some as single-stream recycling.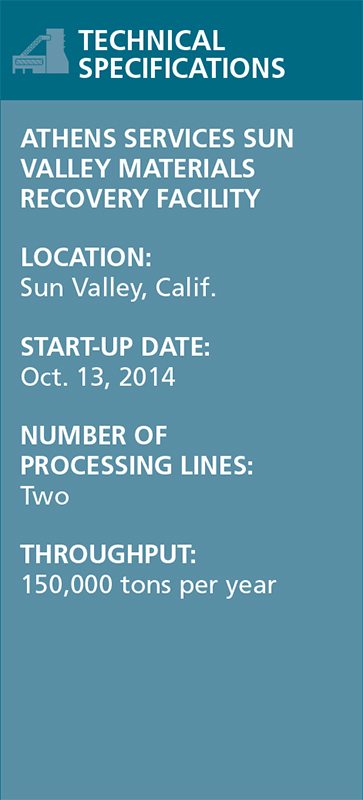 Opened in fall 2014, the mixed-waste MRF has a throughput of 150,000 tons per year, or about 70 tons per hour. The facility's equipment was supplied by Eugene, Ore.-based Bulk Handling Systems.
The sortation system begins with a metered infeed, which provides a steady material flow into the system. Following that is a BHS bag breaker, which effectively tears open garbage bags to remove the contents. The material then flows past manual pre-sort stations where large items and contaminants are removed.
Then OCC and debris roll screens work together to separate OCC and remove fines, including organic fines. Those organic materials are shipped off-site for composting. Material falling over the debris roll screen is conveyed to a Nihot single-drum separator, which sorts materials by density to capture containers and fibers and separate them from more dense materials.
An inclined polishing screen then separates containers from paper and plastic bags by allowing containers to drop off the bottom of the screen and carrying paper and films over the top.
The fiber and films stream continues to a FiberPure screen, which removes small and wet papers. An NRT FiberPure optical sorter then targets the mixed paper, positively sorting it from films and creating a clean paper supply.
The container stream continues to a magnet to remove metals before heading into a series of optical sorters: an NRT SpydIR-T for natural HDPE, SpydIR-R for other HDPE, SpydIR-T for PET and SpydIR-R for mixed plastics. An eddy current separator then removes aluminum.
Capping off the system is an IPS Baler.
The facility's equipment and personnel will produce an average of 85 tons of fiber and 15 tons of containers each day. The company emphasizes the high quality of the finished product.
"With exceptional personnel, cross training and a deep understanding of our waste and equipment, the Sun Valley MRF produces commodities that surpass many single-stream MRFs," Johnson said.
Athens Services estimates it is recovering 98 percent of recyclables in the mixed-waste stream (92 percent with BHS equipment and an additional 6 percent with quality control staff).
The biggest challenge the Sun Valley MRF faces is the large amount of textiles it collects. Film, a problem for many other MRFs, is sorted and sold, the company said.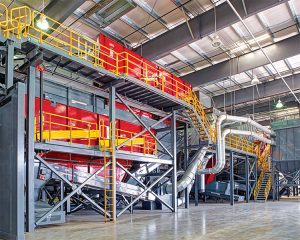 In order to meet expectations for its return on investment, the $50 million facility needed to maximize throughput and have an uptime of more than 95 percent. According to Athens Services, that uptime is now at 98.6 percent, with an average downtime duration of two minutes.
Athens Services' Sun Valley Materials Recovery Facility has 36 full-time positions and 40 temporary sorter positions working one shift, Monday through Friday.
See a video of the MRF components in action at bhslink.com/athens.
This article originally appeared in the March 2017 issue of Resource Recycling. Subscribe today for access to all print content.