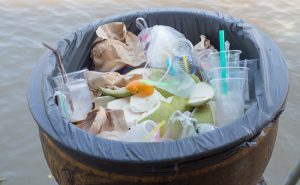 The Circular Economy Package adopted by the European Commission in March is receiving considerable attention among European plastics reclaimers.
The recycling industry must now consider how it will adapt to attain the legislation's call for a 55 percent plastics recycling rate. Currently, about 49 million metric tons of plastics are generated annually in the European Union (EU), of which 16 percent is recycled.
Experts took to the stage to discuss this topic and other challenges during Plastics Recycling Show Europe, held March 29-30 in Amsterdam.
Margot Auvray, a policy coordinator at the European Federation of Waste Management (FEAD), said meeting Europe's new target will require numerous actions, including recycled-content mandates, eco-labeling requirements, green procurement policies and the internalization of the true costs of virgin resin production.
Recycling industry members also know the focus will move toward difficult-to-recycle plastic streams, such as multi-layer packaging and flexible plastics.
"We need to go beyond bottles," said Lucie Charbonnel, a marketing leader in DuPont's recycling business. She pointed out significant research is underway to boost the recycling of non-bottle plastics. She also cited recent studies using a compatibilizer to address the LDPE contamination found in PET thermoform recycling, as well as the use of a viscosity booster to improve the properties of PET thermoform scrap.
Debate over EPR effectiveness
But who will pay for expanded European plastics recycling? Some industry players suggest current producer responsibility schemes will need to change. Already, critics are saying current extended producer (EPR) systems are confronting problems.
In EPR frameworks, product producers are mandated to manage or pay for the recovery of the items they put on the market. EPR systems for packaging are common in Europe and have lately gained favor in some Canadian provinces.
Joachim Quoden, managing director at EXPRA, the alliance of EPR systems, said nearly all European EPR efforts have encountered "key challenges." He noted that the resin price support program in the United Kingdom has critical issues, brand owners in France complain about inefficient local collection programs, the German approach has way too many free riders (packaging producers who do not pay fees), and the Hungarian national EPR system has been wiped away by the government.
But key observers still suggest EPR will be part of the move to higher recovery.
"If we don't use EPR, we'll move backwards," said Clarissa Morawski, managing director at Reloop, a European recycling and sustainability consultancy. She said her work shows brand owners have made "amazing progress" in their support of EPR, and she sees brand companies developing new EPR systems.
"Differentiated fees," specifically for plastics recycling, are also receiving significant attention. Under this approach, EPR fees would have a recycled-content element, with the goal of driving recycled market development.
For example, a brand owner would pay a high EPR fee for a virgin-resin bottle, but one that uses an all-recycled-content container would pay far less, or maybe nothing.