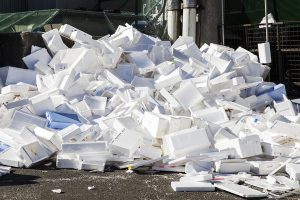 Shareholders of Target and other giant brands will likely decide whether they want the businesses to stop using expanded polystyrene.
Advocacy group As You Sow is asking Amazon, McDonald's, Target and Walmart — all publicly traded companies — to make plans to phase out the use of EPS. The requests come in the form of shareholder resolutions filed with Amazon, McDonald's and Target. As You Sow is still talking with Walmart about its use of foam.
Amazon, Target and Walmart use foam as a packing material, and McDonald's uses foam cups outside of the U.S. The resolutions ask each company's board of directors to issue a report assessing the environmental impacts of continued use of foam. They say the analysis should include an "assessment of the reputational, financial and operational risks" associated with continued use of foam.
As You Sow, an Oakland, Calif.-based group, introduces shareholder proposals at major publicly traded companies to pressure them into taking steps intended to protect the environment. For example, the group says it pushed Unilever for years to make its packaging recyclable. Last month, the consumer good giant announced its goal of making all of its packaging reusable, recyclable or compostable by 2025.
Going to a vote
Executives at McDonald's and Target decided not to challenge the resolutions, meaning they'll likely go to a vote by company shareholders, Conrad MacKerron, senior vice president for As You Sow, told Plastics Recycling Update.
Amazon has challenged the resolution at the U.S. Securities and Exchange Commission (SEC). Companies can petition the SEC to omit the proposal if they think it has run afoul of one of the federal agency's rules regarding the wording and subject matter allowed in resolutions.
"We often negotiate a withdrawal in exchange for some substantive action by the company -– that's a main source of our leverage," MacKerron said. "Companies generally don't want proposals on the proxy but recognize our right to bring them."
He said substantive conversation with the companies on the resolutions would happen in the next two to three weeks.
If As You Sow is successful in having resolutions placed on proxy statements, they are circulated to all shareholders and voted on at annual meetings, usually held in the spring.
New Plastics Economy
The resolutions come after the release of a report last month from the Ellen MacArthur Foundation. Called "The New Plastics Economy: Catalyzing Action," the report calls for steps to be taken to reduce plastics waste and protect the environment. It was endorsed by 40 industry leaders.
In a press release, As You Sow noted that the report was endorsed by 15 global brands, including Coca-Cola, Danone, Dow Chemical, L'Oreal, Marks & Spencer, Mars, PepsiCo, Procter & Gamble and Unilever. It called for the replacement of PS, EPS and PVC, according to As You Sow.
"The MacArthur report says replacement of PVC, EPS and PS would enhance recycling economics and reduce their potential negative impact as substances of concern," the press release states.
"Having the leaders of more than a dozen global brands call for replacement of polystyrene sends a powerful message to industry to redesign consumer packaging materials to be less toxic and more recyclable," MacKerron stated.
In response to As You Sow's announcement, the American Chemistry Council's Steve Russell told Plastics Recycling Update the Catalyzing Action report made clear that replacing those plastics with alternatives "would need to be explored."
"These materials offer specific and sometimes unique properties that can provide important performance and environmental benefits," said Russell, head of ACC's Plastics Division. "The Catalyzing Action report focuses on recycling — an undeniably important element of material sustainability. However, critical issues of resource efficiency and greenhouse gas emission reductions must also be taken into account when setting policy to advance sustainability. Looking ahead, discussions building on this report would benefit from focusing less on specific resins and more on the functionality and life cycle benefits of a package in its specific use."