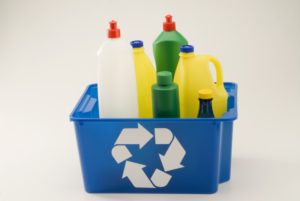 Half of all plastic packaging could be profitably recycled if improvements are made to its design and to recovery systems, according to a report. Another 20 percent could be converted to reusable formats, and the remaining 30 percent will likely never be recyclable without fundamental design changes.
Those were some conclusions from a report by the Ellen MacArthur Foundation and the World Economic Forum. The document, entitled "The New Plastics Economy: Catalysing action," was endorsed by 40 industry leaders, including major companies such as Amcor, The Coca-Cola Company, Danone, Mars, Novamont, Unilever and Veolia, according to a press release. The World Economic Forum is a group bringing together political and business leaders to shape global, regional and industry agendas.
The analysis lays out a vision for changes in packaging and recycling systems to recover considerably more plastic than is recovered today.
The report estimates that implementation of good practices and standards in packaging design, as well as improvements to recovery systems, could boost the value of each metric ton of mixed plastic packaging collected by $190 to $290.
It calls for changes in packaging design, including the materials and additives used, as well as the formats. Examples of different packaging formats are bags, boxes or bottles. Additionally, it highlights the need to harmonize and adopt best practices for collection and sorting, scale up high-quality recycling processes, explore the use of identifying markers to aid in sorting, deploy new sorting technologies for flexible films and roll out adequate collection and sorting infrastructure in places that don't have it.
The document emphasized the need to boost demand for recycling plastics through voluntary commitments to buy recycled content or policy instruments.
"Given the current fragile economics of recycling, demand-pull for recycled plastics and other supporting policy measures could trigger progress in the near term," according to the report.
The analysis estimated another 20 percent of plastic packaging could be converted to reusable formats. Specifically, it mentioned replacing thin plastic bags with reusable ones and scaling up reusable large rigid packaging and pallet wrap in business-to-business settings.
Lastly, the report touched on 30 percent of packaging that will never be reused or recycled. As examples, it mentioned small-format items, multi-material packaging, less commonly used plastics and items badly contaminated by food or other organic materials. These are all more likely to end up in the natural environment, particularly in emerging economies. And, when collected, their after-use material value is difficult or impossible to capture at scale.
"Innovation in packaging design, recyclable and compostable materials, and reprocessing technologies are likely all required to move this challenging segment forward," according to the press release.
Steve Russell, head of the American Chemistry Council's (ACC) Plastics Division, released a statement saying plastics makers welcomed the document and its efforts to promote innovation and advance the sustainability of plastics.
That being said, the report focused exclusively on recycling, which is important to materials sustainability, but the critical issues of resource efficiency and greenhouse gas emission reductions must also be taken into account when setting policy, Russell said.