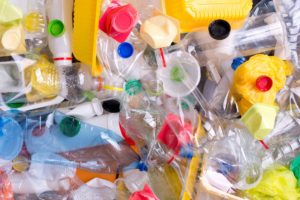 Consumer products giant Unilever has committed to ensuring all of its plastic packaging is fully reusable, recyclable or compostable by 2025.
The company, headquartered in Europe, also pledged investments in technologies to recycle multi-layered packaging. Multi-layered materials, including pouches, are growing in popularity on store shelves but most are not yet recoverable through municipal or return-to-retail recycling programs.
"Our plastic packaging plays a critical role in making our products appealing, safe and enjoyable for our consumers. Yet it is clear that if we want to continue to reap the benefits of this versatile material, we need to do much more as an industry to help ensure it is managed responsibly and efficiently post consumer-use," Paul Polman, Unilever CEO, stated in a press release.
The company had previously committed to increasing its recycled content use to at least 25 percent by 2025. High-profile Unilever brands including Axe, Dove, Knorr, Lipton, Vasoline, Ben and Jerry's, Country Crock, Lever 2000, Suave and more.
Newly announced pledges
Unilever said it aims to ensure that by 2025 it is technically possible to reuse or recycle all of its packaging "and there are established, proven examples of it being commercially viable for plastics reprocessors to recycle the material."
Multi-layered packaging is one key impediment to be overcome. Unilever committed to investments to prove the viability of technical solutions for recycling the packaging format, particularly for coastal areas, which are most at risk of leaking the material into the ocean. Unilever said it would share technical solutions it develops with the industry.
Additionally, the company said it would renew its membership in the Ellen MacArthur Foundation for another three years and support the foundation's New Plastics Economy initiative. The Ellen MacArthur Foundation and the World Economic Forum recently released a report calling for packaging design changes and recovery infrastructure investments to dramatically boost the recycling of plastic packaging around the world.
As part of the commitment to the foundation and its initiative, Unilever said it would publish the full list of plastics used in its packaging by 2020. Doing so will help create a plastics protocol for the industry, according to the press release.
Reactions to the commitments
The Association of Plastic Recyclers (APR) praised Unilever's pledges.
"This is a tremendous announcement to start off the new year," said Steve Alexander, APR executive director. "This is precisely the type of commitment and leadership from the demand side of the equation that the plastics recycling industry is looking for. Commitment to incorporating recycled content in their packaging provides certainty in the marketplace. We look forward to working with Unilever to help them achieve their goals of increasing the use of recycled plastic content in their packaging as well as their commitment to addressing the technical challenges facing the plastics recycling industry."
Conrad MacKerron, senior vice president of Oakland, Calif.-based nonprofit group As You Sow, said Unilever was one of the big consumer goods companies his organization has pushed over the past four to five years to make its packaging recyclable.
"We're really happy to see them take that stand, so we're generally really pleased about it," he said. "I do think it's a longer timeline than we would like to see. If it was shorter, it would be more of a catalyst to develop the technology that I think still needs to be created."
He noted that multimaterial laminates are a "big bottleneck" to Unilever reaching its recyclability goal. A few years ago, brands were telling him they were OK with not having a post-consumer recovery solution for their multi-material laminated packaging because the format has been shown to yield greenhouse gas emissions benefits. Now, he said, they're realizing that having the packaging end up as litter is a liability.
"The fact that they're publicly acknowledging that this stuff is important, that they and their industry peers do have a responsibility for finding solutions, is important," MacKerron said.