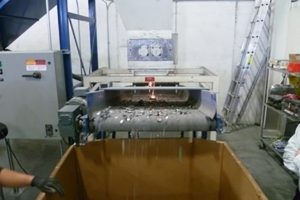 Scientists evaluated employee exposure to toxic metals and flame retardants at Cascade Asset Management. The results and their suggested fixes could help other electronics processors improve health and safety.
Researchers at the National Institute for Occupational Safety and Health (NIOSH) last month published the results of their study at the Madison, Wis.-based ITAD facility. Their report didn't reveal the electronics processing facility, but Cascade confirmed in its newsletter the research was conducted at its headquarters processing facility. The assessment was done at the request of Cascade's management.
"The results showed that maintaining good exposure controls, such as rigorous housekeeping, helps substantially to reduce employee exposure to hazards in the electronics recycling industry," Catherine Beaucham, a scientist who helped lead the project, told E-Scrap News.
Environmental and biological samples
In February 2017, scientists collected surface wipe, hand wipe, air, blood and urine samples, as well as measured noise and observed employees working. Sample testing showed that while employees were exposed to metals including lead and cadmium, none had elevated levels of lead or cadmium in their blood. Additionally air sampling found no exposures to airborne metals over occupational exposure limits.
Hand wipe sampling, however, did demonstrate there's the potential for employees to inadvertently take home contaminants. Noting that soap and water isn't enough to remove toxic metals from hands, the researchers recommended Cascade provide employees with a specific lead-removing product. They also recommended that, instead of dry sweeping, employees clean their work areas with wet-cleaning methods or a high-efficiency vacuuming system. They recommended using a magnetic sweeper to pick up loose screws and other scrap metal.
As far as flame retardants were concerned, sample analysis confirmed that employees are exposed to them, but exposure levels were typically lower than what has been seen at other e-scrap recycling companies. The researchers noted that Cascade's facility doesn't do a substantial amount of mechanical disassembly.
The presence of flame retardants was not a surprise. A NIOSH report released a year ago showed workers at a different e-scrap facility were being exposed to flame retardants, and an Indiana University study published last fall showed e-scrap dust had increased levels of a particular flame retardant. Scientists recently studied ways employees can effectively remove flame retardants from their hands at the end of their shifts.
The science on flame retardants' impacts on human health isn't as mature as it is for materials such as lead. While numerous studies have shown an association between flame retardant exposure and some serious health problems, it's not clear yet at what levels of exposure those impacts begin to occur, the researchers noted.
"Evaluations like this one help us identify populations with potential exposure and may help establish baseline levels to evaluate employees in at-risk industries during future research," they wrote.
The experts also identified a number of work-station ergonomic concerns that could lead to employee injuries. Those included employees working in awkward postures, using forceful exertions, performing repetitive motions, standing for prolonged periods and working in sub-optimal lighting.
As a result, the company installed and retrofitted workbenches and equipment "to reduce unnecessary musculoskeletal strains over the past two years," Cascade wrote.
Photo credit: NIOSH
More stories about research