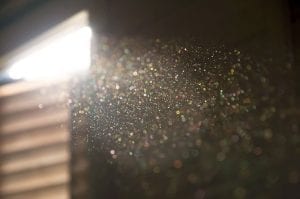 Researchers analyzing particle samples from an e-scrap facility found concentrations of a previously undetected, potentially toxic chemical.
Scientists at Indiana University (IU) detected tri(2,4-di-t-butylphenyl) phosphate, or TDTBPP, which is part of a family of chemicals known to be toxic. According to an IU press release, little is known about the toxicity of TDTBPP or how it gets into the environment, however.
TDTBPP is used as a flame retardant or as a plasticizer in consumer products, including in plastics, wires and printed circuit boards in electronics. It can be breathed in or absorbed through the skin.
For the study, the scientists examined dust samples from an unnamed scrap electronics recycling facility in Ontario, as well as 20 Ontario homes. They also studied air, soil and water samples from the natural environment around southwestern Lake Michigan.
"We found surprisingly high levels of TDTBPP everywhere we looked," Marta Venier, a scientist at the IU School of Public and Environmental Affairs and an author of the study, stated in the press release. "The fact that this potentially toxic chemical is so abundant, but was previously unknown, is another example of the ineffective management of chemicals in the United States."
The results showed the levels of TDTBPP were particularly high in the e-scrap facility dust. The samples showed a median concentration level of just over 14 parts per million. In household dust, the median level was just shy of 5 parts per million.
The study, "Tri(2,4-di-t-butylphenyl) Phosphate: A Previously Unrecognized, Abundant, Ubiquitous Pollutant in the Built and Natural Environment," was published in Environmental Science & Technology. The authors hailed from IU, Masaryk University in the Czech Republic, the University of Toronto, and Environment and Climate Change Canada, a Canadian federal department.
In July, E-Scrap News reported on the results of two health hazard evaluations conducted by the National Institute for Occupational Safety and Health (NIOSH) at e-scrap facilities. NIOSH found metals and flame retardants on employees' hands, in their bodies and in the air. In some cases, the substances were found to be above occupational limits.
Photo credit: struvictory/Shutterstock

More stories about research