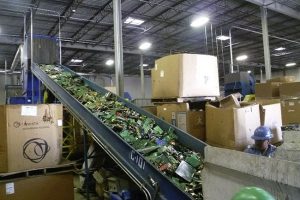 Results of a new study suggest e-scrap workers must wipe their hands multiple times at the end of their shifts to remove toxic flame retardants.
The study was conducted by scientists at the National Institute for Occupational Safety and Health (NIOSH), Harvard T.H. Chan School of Public Health and the College of William & Mary. The resulting paper, titled "Field evaluation of sequential hand wipes for flame retardant exposure in an electronics recycling facility," is slated to be published in the journal Chemosphere in March.
The study was conducted at an unnamed U.S. e-scrap facility that has both a manual disassembly department and a shredding and separation operation. Researchers tested isopropyl alcohol-soaked gauze and twill hand wipes used by 12 workers. The staff members wiped their hands three times sequentially before washing their hands at the end of the work day.
Broadly speaking, the study showed that while the first wiping generally removed the highest percentage of flame retardants on their hands, a large percentage – half or more – remained to be removed in subsequent wipings.
Even after the third wipe, some of the chemicals may remain on the skin. In particular, types of flame retardants that tend to combine with or dissolve in oils and fats required more passes to remove. That indicates several wipes may be needed to break down natural skin oils to remove the flame retardants. The researchers couldn't definitively identify gauze or twill as the more effective material.
Some of the workers had worn gloves during their work shift, but researchers measured a lot of dust on their hands anyway.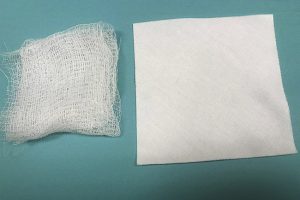 "This work is most interesting because all the dust we found on these workers' hands was on a fairly small e-recycling facility with a small shredder," said Diana Ceballos of the Harvard Chan School of Public Health. Ceballos was a co-author of the study. "[It provides] good motivation for firms to reduce shredding as much as possible and focus on the great refurbishing efforts happening nationwide, and to minimize shredding of plastics and other materials that are known to contain flame retardants."
Harvard on Dec. 18 posted a news item about the research.
While much remains unknown about the human health impacts of flame retardants, studies point to a link between them and reproductive problems, low birth weight and length, delayed motor skills and decreased IQ. Different types of flame retardants have been, and continue to be, used throughout electronics components.
E-Scrap News has written about other recent studies exploring e-scrap workers' flame retardant exposure. In one, Indiana University researchers examined a previously undetected flame retardant chemical in dust at an Ontario, Canada e-scrap facility. In another, NIOSH researchers studied exposure at an Ohio e-scrap facility and found flame retardants in workers' urine and blood.
Photos from study.
More stories about research