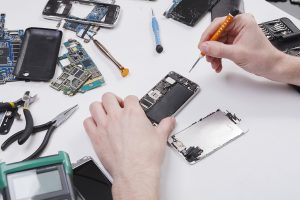 A federal agency is exploring OEM impediments to the repair of electronics. Meanwhile, the New York Times editorial board came out in favor of right-to-repair laws.
Below are details on the sector developments.
Repair pros can add voice to federal effort
The Federal Trade Commission (FTC) has scheduled a workshop called "Nixing the Fix: A Workshop on Repair Restrictions." At the July 16 event, to be held in Washington, D.C., FTC staff intend to gather information on how manufacturers impede repair by repair businesses, the interplay between repair restrictions and a federal law on warranties, whether some repair restrictions are necessary for safety or to protect manufacturers from liability, and more.
In the run-up to the workshop, the commission is seeking perspective from repair experts.
"For example, what can you tell us about code that disables products that have been repaired by someone other than the manufacturer, product designs that make third-party repairs difficult … or proprietary diagnostic software and replacement parts?" the FTC asks in a press release.
The deadline to submit feedback is April 30.
The FTC's inquiry centers on the Magnuson-Moss Warranty Act, which, among other things, states that manufacturers can't condition a product warranty on the use of that company's products or services.
Last year, the FTC wrote six warning letters – to ASUS, HTC, Hyundai Motor America, Microsoft, Nintendo of America and Sony Computer Entertainment America – expressing concern they were violating the warranty act.
Right-to-repair bills
The editorial board of The New York Times published a piece on April 6 calling for the passage of right-to-repair legislation. The bills force OEMs to provide the information, parts and tools necessary for independent shops to repair their devices so the products can be sold for reuse.
Lawmakers in nearly two dozen states this year have introduced right-to-repair bills, though none have yet to pass.
Advocates are looking at Minnesota as a possible venue for legislative success. Minne Inno reported on the status of that state's bill and quoted Amanda LaGrange, CEO of Twin Cities-area e-scrap processor Tech Dump and a supporter of the legislation. The Minnesota bill, HF 1138, passed out of two committees but hasn't received a vote by the full House of Representatives.
In its editorial, The Times noted Sen. Elizabeth Warren, running for the Democratic presidential nomination, has proposed a nationwide right-to-repair law for farm equipment. Her state, Massachusetts, passed a right-to-repair bill applying to automobiles in 2012.
Taking aim at Apple, the Times editorial board says right to repair should also apply to consumer electronics. Apple recently signaled a move toward loosening its control over device repairs.
"The company is welcome to persuade people to patronize its own repair facilities, or to buy new iPhones. But there ought to be a law against forcing the issue," the Times wrote. "An open marketplace for repairs benefits consumers, independent retailers and the environment. Modern devices are increasingly complicated; that concept is not."
Photo credit: Prostock-studio/Shutterstock
More stories about regulation/oversight