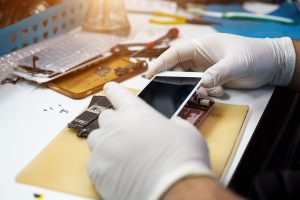 Apple is developing a framework that would bring the company in line with right-to-repair principles, according to a Vice News report that cited internal company documents.
Motherboard, the technology news department of Vice News, reported that Apple has begun giving some independent repair companies access to the OEM's diagnostic software, as well as proprietary parts and training. The company also "places no restrictions on the types of repairs" those select companies are allowed to do, Vice reported, citing a leaked April 2018 company presentation titled "Apple Genuine Parts Repair."
Historically, Apple has reserved its repair resources for authorized Apple service providers, a move right-to-repair advocates have criticized as hampering consumers' and independent repair firms' ability to service devices. And for certain repairs Apple requires authorized service providers to ship the device back to the manufacturer, a move the "Genuine Parts Repair" program apparently doesn't require.
Kyle Wiens of iFixit told Motherboard the outlined plan appears to be "a framework for complying with right to repair legislation."
Wiens suggested that the move could be "an attempt to reduce pressure from the public for right to repair legislation," adding that Apple is "negotiating on their own terms."
Right-to-repair legislation has been introduced in 23 states this year. The bills force electronics manufacturers to provide information, tools and parts to consumers and independent shops for repairing devices. Apple and other OEMs have lobbied against the bills.
In separate right-to-repair news, cell phone carrier Ting Mobile recently announced it supports customers being allowed to repair their own devices.
Photo credit: PK Studio/Shutterstock

More stories about refurbishment/reuse