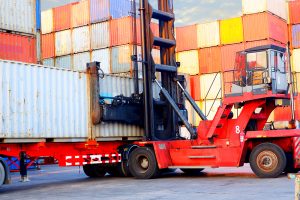 Chinese officials doubled down on plans to ban virtually all recovered material imports by the end of the year, despite opposition from U.S. interests.
Even as the country issued recovered fiber import permits last week, Chinese environment ministry officials made clear the government's plan to end almost all "solid waste" imports by the end of this year. The plan was first released last summer.
China's policies – and  similar actions by other Asian nations – have caused global shifts in the markets for many recovered materials. In the electronics recycling business, one major impact has been a drastic reduction in downstream options for e-plastics.
'A landmark measure'
The most recent updates on the import situation in China started coming out at the end of last month.
A handful of state media articles quoted a March 28 press conference that featured Qiu Qiwen, the head of the solid waste and chemical management department of the Ministry of Ecology and Environment. Qiu touched on the country's import policies in response to "some media reports that China may ease up on foreign trash," according to state media outlet ECNS.
Qiu referred to the recovered material import ban as "a 'landmark measure' on the country's path of ecological progress," ECNS wrote. The report also quoted Qiu as stating that "China will not relax the ban, but will carry it forward."
Further, Qiu "rejected the view of some foreign companies and industry associations that China's ban doesn't distinguish between resources and waste," according to ECNS.
The difference between those terms is something that has come up in complaints about the country's import restrictions. The Institute of Scrap Recycling Industries (ISRI) has highlighted this concern numerous times in press releases about China's shifting import policies. The U.S. delegation to the World Trade Organization (WTO) voiced similar anxieties in a statement at a WTO committee meeting last month.
According to the WTO statement, the U.S. delegation urges China to "distinguish 'waste' from recyclable materials and scrap before finalizing and implementing this draft law." The statement offered a definition of recyclables as materials that have been "separated from the waste stream for recycling as a raw material" and are "saleable items traded within a distinct global marketplace (i.e., they have an underlying economic value)."
But in the Chinese press conference, Qiu differentiated between what the Chinese government considers waste and recyclables. He pointed to processing as a key factor, although it's unclear whether he was referencing additional sorting to create a cleaner bale, or processing scrap material into a usable form, such as plastic flake or pulping paper.
"Raw materials generated from harmless processing of solid waste will not be classified as solid waste if they meet China's national quality standard and don't pose risks to public health or ecological safety," he said, adding that such materials can be traded as general goods and their import will not be affected by the ban.
Xinhua also wrote about the press conference, stating that China will "basically realize the target of zero solid waste imports by 2020."
The total ban has been added to boilerplate language used in Chinese state media articles covering aspects of solid waste management, such as a recent story covering smuggled waste from South Korea.
"Given rising public awareness and a green development drive, the government decided last year to phase out and completely halt such imports by the end of 2019, except for those containing resources that are not substitutable," Xinhua writes.
ECNS expanded on the "substitutable" caveat, explaining that the import ban language "included an exception for waste containing certain resources if no domestic alternative is available."
Photo credit: eagnarin wanvong/Shutterstock

More stories about Asia