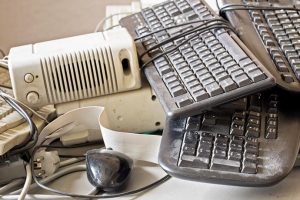 With the value of e-plastics plummeting and a major export market crumbling, North American firms are scrambling to identify ways to manage the material.
Plastics from electronics have always been a tricky material to manage. Facing minimal domestic demand, sortation and contamination challenges and longstanding environmental concerns regarding flame retardants, processors of all shapes and sizes have come to rely on the export market.
"Pretty close to 100 percent of consumer-grade plastic from our industry was going to China.  It's just too contaminated for domestic processors," Jeff Gloyd, vice president of marketing and sales at URT, recently told E-Scrap News.
But all that is changing – and changing quickly.
China's National Sword initiative
Throughout 2017, China has delivered multiple announcements about new import restrictions, which together have become known to many in the industry as the National Sword campaign. China's steps have included crackdowns on imports of "illegal waste," future bans of imports of many recyclables, tightened allowable contamination standards and restrictions on issuing import permits.
Causing major disruptions in the global recycling market, the steps have also cut off a critical pipeline for e-plastic. A slowing of e-plastic shipments to China began as early as last winter.
"China can no longer take e-plastic," Jim Fei, the president of brokerage firm Baycrest International, told E-Scrap News. "We have not moved any e-plastic to China since the middle of last month."
Baycrest International is not alone. In a Nov. 8 newsletter, Wisconsin-based Cascade Asset Management noted China had "shut its borders to nearly all recycled plastic," forcing the firm to explore alternatives to recycling, including sending e-plastics to waste-to-energy plants.
Steve Wong, the executive president of the China Scrap Plastic Association (CSPA), has also been keeping close tabs on the enforcement action. According to a November newsletter from Wong, Chinese agents had already arrested 259 suspects in 2017 believed to be smuggling waste, including plastics, into the country. Wong said customs officials "will continue to exercise unrelenting action … going forward."
Some firms, including URT, say they're still able to send some shredded e-plastic to China, but all firms interviewed for this article noted baled e-plastic loads are no longer making it into the country.
FCM Recycling, one of the few North American firms actively recycling e-plastic, has noticed a "clear shift in the market" since China has stepped up enforcement, said Andrew Rubin, company president.
"We are now facing considerable less competition for baled and flame retardant materials that were originally heading for Asia," Rubin said, noting mixed e-plastic is now valueless "if you are able to export the product at all."
'Basically garbage'
The value of e-plastic has taken a considerable hit in 2017. According to Duane Beckett, the CEO of New York-based Sunnking, mixed e-plastic is now "basically garbage" due to China's restrictions.
"Sunnking has definitely felt the pressure with regard to plastics," Beckett told E-Scrap News. "There is no movement for [mixed plastics]."
Fei with Baycrest International also noted the price of e-plastics has "dropped quite a bit since the National Sword initiative and import ban." And while this has hampered the movability of an already low-to-no-value material, it hasn't stopped it entirely.
One way Beckett, Fei and others said this is happening is through Chinese firms moving elsewhere in Asia to keep the flow of North American e-plastic alive.
"What we've seen is a number of companies in China have quickly moved processing capabilities into Malaysia and a couple other countries, so that's where the baled plastic is going," URT's Gloyd said.
Fei has been able to do the same, but noted, "overall, it's a very challenging market."
Adina Adler, the senior director of government relations and international affairs at the Institute of Scrap Recycling Industries (ISRI), said she "was not surprised" to hear of Chinese firms moving elsewhere. According to Adler, this has occurred to handle other recyclable materials affected by China's restrictions.
The uncertain future of e-plastic
China's actions will likely have lasting impacts on the global recycling market.
Wong from the CSPA said in November that China was preparing to ban imports of all plastic scraps "by [the] end of 2018," but noted "certain forms of plastic scraps, such as washed flakes, [could still be] allowed for import in 2018."
Many firms are indeed beginning to consider the long-term implications of National Sword. In its November newsletter, Cascade Asset Management noted it was "actively working on long-term solutions" and a few firms told E-Scrap News the industry needed to focus on innovation.
Sunnking's Beckett, a vocal proponent of domestic sortation and management to create a stronger market for e-plastics, said he's seen some progress lately. "We have seen companies invest in new sorting techniques, such as sink/float tanks, to create a better product for themselves," Beckett said.
URT's Gloyd agreed that investments are going to be needed in the U.S. to improve the quality and value of domestic e-plastic. He said companies are fretting the prospect of needing to landfill the material in the event the entire overseas market erodes.
"What happens when someone turns on the lights in Malaysia and says, 'Wait a second, what's going on here?'" Gloyd said. "Companies in our position really need to start looking at how we can make sure we generate material that's clean enough, and separated enough, to have value either domestically or internationally."
More stories about e-plastics