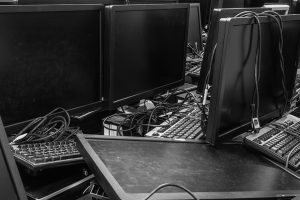 Oregon regulators announced they've settled a case against e-scrap processor Total Reclaim, centered on the company misleading customers about how devices were being handled. The company had previously acknowledged the settlement.
The Oregon Department of Justice and the state Department of Environmental Quality issued a release this week, outlining the settlement of what would have become a "false claims" lawsuit against Total Reclaim. As part of the closure, the Seattle-headquartered electronics recycling company paid the state $553,750.
"We hope this settlement demonstrates that we are serious about holding the recycling business accountable to responsible recycling," Ellen Rosenblum, Oregon's attorney general, noted in the release.
Rosenblum said the settlement follows a "long-running investigation" into the company's activities, which first came to light through GPS tracking work completed by the Basel Action Network (BAN). The nonprofit watchdog group discovered devices handled by Total Reclaim were being exported to Hong Kong in violation of Total Reclaim's promises as part of its e-Stewards recycling certification, which prohibits exporting as a downstream option.
BAN operates the e-Stewards standard.
Of the settlement money, $470,000 will go toward the state's environmental regulatory department "to support recycling efforts," and the remainder will go to cover legal and investigatory fees.
Total Reclaim has admitted to knowingly allowing its devices to be exported to Hong Kong. In November, company leaders Craig Lorch and Jeff Zirkle pleaded guilty to federal conspiracy crimes related to the LCD exports. Sentencing in that case is set for April 23.
Lorch and Zirkle touched on the Oregon settlement in an open letter for E-Scrap News last month, stating the company already paid the fine. The punishment was in addition to another $530,000 the company agreed to pay environmental agencies in Oregon and Washington for hazardous waste storage violations.
Photo credit: KG Design/Shutterstock
More stories about courts/lawsuits