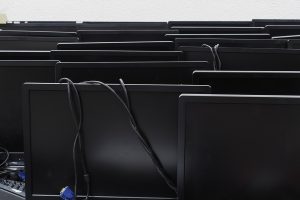 Colleagues in the recycling community:
You may have read that we recently pleaded guilty in federal court to a felony charge of conspiracy to commit wire fraud in connection with our company's handling of flat screen monitors between 2009 and 2015. The purpose of this open letter is to alert our colleagues in the recycling industry, as well as business owners in general, to the importance of ensuring that all business activities comply with the law and commitments you have made to your customers.
Arriving at the point where we were prepared to enter our respective guilty pleas was difficult and painful. Neither of us ever imagined that we would find ourselves pleading guilty to felonies. Our decision has caused each of us to reflect upon the slippery slope of miscalculations and misrepresentations, which resulted in our violating the law.
We also recognize that we failed those customers whose trust we violated. Our poor decision-making and resulting criminality has forever changed our lives; indeed, we face the prospect of incarceration in federal prison when we are sentenced in March 2019. It is our hope that by publishing our story we can help others avoid repeating our mistakes and the consequences we now confront.
Thank you for taking the time to read, and hopefully learn from, our story.
Background
Total Reclaim was founded in 1991 with the goal of helping industry and government agencies recycle refrigerators and HVAC equipment in compliance with the 1990 Amendments to the Clean Air Act. In 1995, Total Reclaim became the first reclaimer of refrigerants in the Pacific Northwest. In 1997, we created our sister company, EcoLights Northwest, to recycle mercury-bearing lamps and in 1999, we began recycling computers, monitors, and other electronics.
Ultimately, Total Reclaim grew to become the leading recycler of computers and electronics in the Pacific Northwest, processing material collected from commercial and governmental entities large and small, as well as individual consumers.
Throughout its history, Total Reclaim strived to serve as a role model for other recyclers by investing in the best currently available technologies, developing new techniques to recover valuable natural resources from discarded materials, and participating in policy development for emerging waste streams. We were successful in achieving our goals and recognized for our successes.
The flat screen dilemma and the slippery slope
As flat screens became more common in homes and workplaces, Total Reclaim began receiving LCD monitors and televisions for recycling. These products presented particularly novel challenges to Total Reclaim and other recyclers due to the complexity of their construction and the labor needed to dismantle and recycle them.
Initially, the volume of LCD flat screens we received was small and manageable. Nonetheless, as the volume rapidly grew, we were presented with the opportunity to sell the flat screens to another company and we agreed to do so. We made this decision knowing that the company to which we sold the flat screens intended to export them to Hong Kong, primarily for resale and/or refurbishment but also, in some cases, for disassembly and end-of-life recycling.
The decision to do so violated our contractual obligations with customers who paid us to recycle these items domestically, in compliance with our e-Stewards certification, and the Basel Convention's provisions governing the export of electronic waste to developing countries, as well as Washington Department of Ecology regulations.
Our early decision to sell flat screens was driven primarily by simple business convenience, because it allowed us to postpone developing additional processing capacity. As the volume of flat screens increased over time, it became easier to stay the course and not address the inconsistency between our actions and contractual obligations to our customers.
To make matters worse, once flat screens entrusted to us for proper recycling were discovered in Hong Kong, we initially panicked, denied knowledge of the exports and modified shipping and other documents in an effort to conceal evidence of the shipments.
As we acknowledged in a May 2016 statement admitting to this conduct, we made a very poor business decision, one driven by financial and operational considerations, which reflected a lack of mindfulness on our parts of all of the consequences which could result. By taking the convenient path, we violated not only the law, but the trust of our customers and our employees.
The consequences of our conduct
Although we halted the sale of the flat screens before the public learned of our misconduct and before we publicly acknowledged our wrongdoing on Total Reclaim's website, the damage to Total Reclaim was irreversible. The public outing of our misconduct resulted in a significant decline in our business and caused us to become the subjects of an almost two-year criminal investigation by the United States Attorney's Office in Seattle. Needless to say, this investigation has been disruptive, both emotionally and operationally, and enormously expensive.
To date, in addition to substantial legal fees, Total Reclaim has settled civil enforcement actions initiated by the Washington Department of Ecology and Oregon's Department of Environmental Quality for almost $530,000. The company also paid $553,000 to the Oregon Department of Justice to settle a threatened False Claims lawsuit. And, as a result of our guilty pleas, each of us face the prospect of being sentenced to serve a term of imprisonment of up to five years.
Finally, our plea agreements with the United States Attorney's Office also mandate a restitution payment to our customers of just under $1 million.
The simple fact is that any financial gains, short- or long-term, real or hypothetical, we may have realized from our misconduct have been more than offset by the financial penalties imposed upon Total Reclaim by state regulators, the criminal sanctions imposed upon us by federal authorities, our considerable legal fees, and the loss of understandably aggrieved customers.
Neither of us has ever had a previous encounter with the criminal justice system, nor could we imagine when we set out to be innovators and leaders in the recycling industry that we would ever be accused of, let alone agree to plead guilty to, defrauding our customers. We always viewed ourselves as pioneers in our industry, people of integrity, who were committed to promoting environmental stewardship as we ran our successful business.
But by allowing ourselves to ignore our own core values, by failing to be attentive to contractual obligations and by attempting to cover up our wrongdoing, we found ourselves on a slippery slope that resulted in our guilty pleas and the administrative and civil settlements just described.
Conclusion
We decided to write this letter to publicize the very serious consequences associated with and resulting from fraudulent business practices. Although the flat screen monitors associated with our guilty pleas represented only roughly 3 percent of the total volume of material handled by Total Reclaim during the time period covered by the U.S. Attorney's Office investigation, our conduct nonetheless constituted a significant crime with significant penalties, as well as a violation of various civil and administrative regulatory schemes.
While not seeking to minimize our misconduct or distract from our important message, we do want to thank those customers, employees, friends and family members who stood by us while we learned these very difficult emotional and financial life lessons. We can say without any doubt that there were days when this support is all that kept us moving forward and in business.
In closing, we strongly urge everyone who reads our story to take to heart our experience and to avoid repeating the mistakes which we made and which have, and will continue, to cost us dearly.
The views and opinions expressed are those of the authors and do not imply endorsement by Resource Recycling, Inc. If you have a subject you wish to cover in an op-ed, please send a short proposal to [email protected] for consideration.
Photo credit: KG Design/Shutterstock