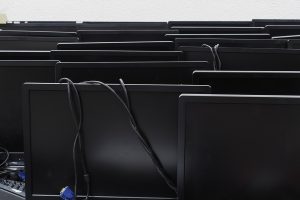 Judicial and processor-specific articles took top spots in terms of readership last month, along with a story about federal battery recycling efforts.
The list below shows our top stories published in January in terms of unique page views.
1 | Open Letter: Learn from Total Reclaim's mistakes
Two e-scrap executives who have pleaded guilty to federal charges over flat-screen exports detail the chain of events that led to the wrongdoing and offer wider perspective to other businesses.
2 | URT converts CRTs into feedstock for tiles
One of the country's largest e-scrap companies is recycling CRT glass into a marketable product that could reduce the processor's dependence on erratic downstream markets for leaded material.
3 | ECS equipment from Texas site goes to auction
Shredding, sorting and processing machinery that was used by shuttered processor ECS Refining is being sold via an online auction.
4 | Stone Castle CEO sentenced to prison
A former e-scrap executive has been sentenced to one year in a federal prison for storing hazardous CRT waste without a permit.
5 | Feds put millions behind lithium-ion battery recycling
The U.S. Department of Energy will award $5.5 million to companies advancing lithium-ion battery recycling technology, and it will dedicate $15 million to developing a research center focused on the material.
Photo credit: KG Design/Shutterstock