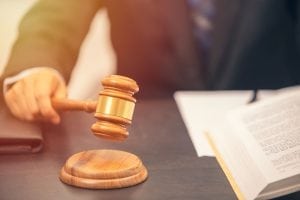 The former head of an e-scrap startup has been sentenced to 10 years in prison for conspiracy and fraud. He has appealed, claiming ineffective representation from his court-appointed attorney.
A federal judge on Oct. 1 sentenced Robert M. Boston, 54, of Hickory, N.C. to a decade in prison and two years of supervised release. The judge also ordered him liable for more than $27 million in restitution to victims, according to a press release from federal prosecutors.
Boston was CEO of e-scrap recycling startup Zloop, which he and Robert LaBarge founded in 2012 in Hickory. Zloop is no longer a functioning company. LaBarge, who was chief marketing officer for the company, was sentenced to two years in prison and two years of supervised release.
In December 2017, a jury found Boston guilty of conspiracy to commit wire fraud, wire fraud, securities fraud and money laundering conspiracy. The U.S. Attorney's Office says he ripped off investors and diverted funds from Zloop so he could live a lavish lifestyle and his son could drive a NASCAR racing truck. According to sentencing memo from prosecutors, Zloop could have been a viable startup that made Boston money.
"Unlike a Ponzi scheme, where the perpetrator must steal to profit, Zloop could have been a successful business that provided Defendant with not only a legitimate salary as CEO, but also a significant return on his large equity stake," according to the U.S. Attorney's Office. "Instead, Defendant's greed deprived Zloop of crucial funding it needed to thrive."
Criminal trial
Before the criminal cases, Zloop became embroiled in multiple lawsuits, including one from a wealthy investor who claimed Boston and LaBarge duped him into providing Zloop $26.5 million. At one point, the company had landed a $7 million contract to recycle millions of Keurig coffee machines, but Keurig later cancelled the deal. Court documents submitted by prosecutors also said Zloop contracted with an infant car seat manufacturer to destroy and recycle seats for business reasons. The manufacturer later discovered Zloop had sold seats to third parties, which sold them to the public online.
Zloop filed for bankruptcy in 2015, and its assets in 2016 were auctioned off to Colt Refining and Recycling, a New Hampshire-based e-scrap company that uses the Hickory location at its southeast hub.
In September 2017, a grand jury at the U.S. District Court for the Western District of North Carolina indicted Boston and LaBarge on four federal charges: conspiracy to commit wire fraud, wire fraud, securities fraud and money laundering conspiracy.
In November 2017, LaBarge pleaded guilty to conspiracy to commit wire fraud, as part of a plea deal with the U.S. Attorney's Office. Documents filed by Boston's attorney in September 2018 noted LaBarge would likely receive a substantial reduction in his suggested sentencing based on his cooperation with the prosecution and his testimony against Boston at trial.
After the jury found Boston guilty on all counts, the U.S. Attorney's Office issued a press release on the verdict. Sentencing, previously scheduled for Sept. 17, 2018, was rescheduled after Hurricane Florence struck the Carolinas.
On Oct. 1, the same day U.S. District Judge Robert J. Conrad, Jr. ordered Boston's sentence, Boston appealed to the U.S. Court of Appeals for the Fourth Circuit. Boston's lead public defender was Kevin Tate of the Federal Defender's Office in Charlotte, N.C. Noting that he anticipates arguing in the appeal he received ineffective assistance of counsel, Boston is asking for a new public defender who isn't affiliated with Tate or his office. He also claims there were other substantial errors of law that denied him a fair trial.
Boston also asked the court to allow him to remain free from prison during his appeal.
Photo credit: Tridsanu Thopet/Shutterstock

More stories about courts/lawsuits