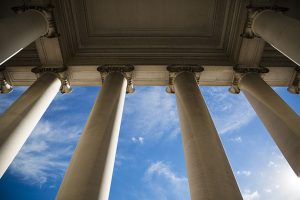 The founder of defunct processor Zloop is facing the possibility of decades in prison after a jury found him guilty of conspiracy and fraud charges.
After a five-day trial, a federal jury has found Robert M. Boston, 54, of Hickory, N.C. guilty of four separate charges.
Boston served as CEO of Zloop, a North Carolina e-scrap startup that failed and had its assets sold off as part of bankruptcy proceedings. Founded by Boston and Robert LaBarge in 2012, Zloop had landed a $7 million contract to recycle millions of Keurig coffee machines, a deal that was later cancelled. The company also acquired a location in Reno, Nev. and sold more than a dozen franchises in deals worth millions of dollars.
E-Scrap News reported in 2015 that the Hickory, N.C. company was facing a barrage of lawsuits from equipment providers, an investor and a NASCAR racing company. It filed for Chapter 11 bankruptcy that year, and, as part of the proceedings, the company's assets were auctioned off.
In 2016, New Hampshire-based Colt Refining and Recycling bought the company's land, 80,000-square-foot building and recycling equipment for $2.25 million.
Criminal charges
In April 2017, a grand jury at the U.S. District Court for the Western District of North Carolina indicted Boston and LaBarge. An amended indictment was signed by a grand jury and U.S. attorneys in September 2017. That superseding indictment charged both men with wire fraud and securities fraud as well as conspiracy charges related to wire fraud and money laundering. The investigation was led by the FBI.
Prosecutors say the men defrauded victims out of more than $25 million. According to the indictment, they defrauded franchisees, investors and lenders of Zloop.
"In addition to deceiving their victims through false and misleading franchise and securities offering documents, defendants falsified documents to perpetuate their fraud," according to the charging document. "Through their fraud, defendants obtained millions of dollars, much of which they spent on expensive personal real estate, a private plane and the racing career of Robert M. Boston's son."
As examples, Boston and LaBarge expenditures include buying two condominiums, a lakehouse, 2014 Chevrolet Corvette, 2014 Jeep Grand Cherokee, 2014 Chrysler Town and Country, luxury watches, Beechcraft King Air airplane, a contract allowing Justin Boston (Boston's son) to drive a truck in NASCAR races and a suite at an NFL stadium.
"Evidence at trial indicated that Boston caused Zloop to spend more money on his son's racing career than the entire operational revenue of the company before it went bankrupt," according U.S. Attorney's Office. "According to evidence presented at trial, while inquiring about the potential purchase of a private island, Boston wrote, 'My son is a NASCAR driver I spend 5 Million [sic] a year so he can play race car driver.'"
Guilty verdict
On Nov. 2, LaBarge, whose title at Zloop was chief marketing officer, pleaded guilty to conspiracy to commit wire fraud, as part of a plea deal with prosecutors. On Dec. 8, a jury found Boston guilty on all counts. According to an article by ESPN, the 12-person jury deliberated more than two hours before reaching its verdict.
As part of the plea agreement, LaBarge provided assistance to prosecutors in the case against Boston, according to a document filed by Boston's attorney in a separate civil case.
A press release from the U.S. Attorney's Office in Charlotte, N.C., says both men are released on bond pending sentencing. Sentencing has not yet been scheduled.
The penalty for each wire fraud conspiracy, wire fraud and securities fraud charge is a maximum term of 20 years in prison, and the maximum penalty for the money laundering conspiracy charge is 10 years in prison.
Kevin Tate, a public defender representing Boston, declined to comment to E-Scrap News because the case is still pending. He pointed to the ESPN article and said it articulated the defense's position at trial and potential legal arguments going forward.
ESPN, which covered the case because of the NASCAR connection, summarized Tate as arguing that racing was always part of Zloop's marketing plan, and that it was obvious to investors.
Boston's attorney said defective machinery hurt Zloop's to generate necessary business. According to the article, they objected to the inclusion in the trial of evidence of Boston's past financial troubles and a fraud lawsuit, and they indicated they would file a request that the judge throw out the jury's verdict.
More stories about courts/lawsuits