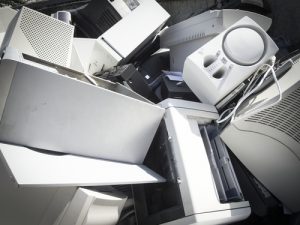 The Basel Action Network is pushing Hong Kong authorities to take action against a multinational company that has been accused of e-scrap import violations.
The Seattle-based watchdog group issued a July 4 press release questioning why e-Tech Management (E.T.M.) has been allowed to remain a tenant in Hong Kong's EcoPark, a business park with a number of recycling companies.
E.T.M., which also has locations in the U.S. and other countries, has been caught multiple times by Hong Kong's Environmental Protection Department (EPD) violating import laws, according to BAN.
"We have a very difficult time understanding how a known violator of the Basel Convention and Hong Kong's environmental waste import rules can be allowed to continue operating anywhere, let alone inside Hong Kong's environmental showcase – the EcoPark," Jim Puckett, BAN executive director, stated in the release. "We hope this will be rectified as a matter of urgency and will not become yet another symbol of lax environmental enforcement in Hong Kong."
In January, BAN released an update to its e-Trash Transparency Project, which uses GPS trackers placed inside broken electronics to follow their downstream movements. BAN said a tracking device showed E.T.M. had exported a printer from Houston to an "unreported e-Tech platform" in the New Territories area of Hong Kong last year.
BAN staff traveled to the site in November 2017 and gathered evidence the facility transfers imported e-scrap to E.T.M.'s EcoPark location, according to BAN's report, which said that under E.T.M.s lease agreement, that facility is only supposed to recycle scrap electronics generated domestically.
When asked by E-Scrap News for a response to BAN's press release and report, Henry Hou of E.T.M. emailed the following statement:
"As one of the tenants in Hong Kong EcoPark, we declare [we did] not violate any leasing agreement. All material processing in our facility [is] collected in Hong Kong domestic and processed with highest ISO and R2 standard. E.tech Management has the right to conduct business outside EcoPark. The printer mentioned in the news is not considered as hazardous material in Hong Kong nor in North America."
BAN also noted E.T.M. falsely claims R2 certification. As of July 13, the company's website claims R2 certification, as does the EcoPark fact sheet about E.T.M. According to Sustainable Electronics Recycling International (SERI), which oversees the R2 standard, E.T.M. has no certified locations.
Photo credit: dwphotos/Shutterstock
More stories about exports