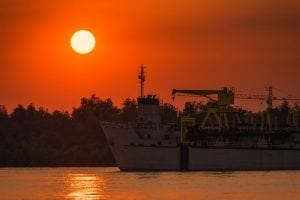 The government of Thailand has banned all e-scrap from entering its ports, amid a major increase in shipments to the country.
According to a June 24 news release, Thailand's Department of Industrial Works "has issued a prohibition on further imports of electronic and plastic waste effective immediately, and will be proposing to the Ministry of Industry to issue an indefinite ban on these imports in the near future."
In response to the announcement, shipping line Hapag-Lloyd announced it would stop accepting shipments of scrap plastics and electronics bound for Thai ports.
Thailand and a number of other Southeast Asian nations have seen substantially more scrap material flow into its ports this year in the wake of China implementing its National Sword policy, which has banned import of many recyclables and put strict contamination limits on others.
Thailand joins Vietnam and other Southeast Asian nations in enacting restrictions on scrap material imports.
Exports to Thailand had already seen a couple short-lived disruptions in recent months – loads were getting backed up and shipping companies decided to temporarily stop accepting bookings. Inspectors have ramped up customs enforcement activities after police visited a massive e-scrap recycling facility in May, inviting media to come with them to document what they found. In a statement sent to E-Scrap News, the owner of the Thai e-scrap facility denied wrongdoing (see related story).
Thailand's leaders have been floating the idea of a ban for weeks. The minister of defense, who is also a deputy prime minister, even threatened to invoke what's called Section 44, which was an emergency provision spelled out in the country's 2014 interim constitution, according to the Bangkok Post. Section 44 gives the National Council for Peace and Order (NCPO), the military junta that staged a coup in 2014 and wrote the interim constitution, broad authority to issue orders without interference from other branches of government.
Last year, a new constitution was approved without the Section 44 language. But a deputy to the prime minister, who is head of the NCPO, said Section 44 remains in force until a new government is elected, according to Thai PBS. The Nation reported last year the prime minister has regularly invoked Section 44 to address a range of issues.
Photo credit: Bubbers BB/Shutterstock
More stories about Asia