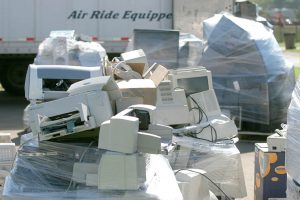 A recently released state program report provides insights into the changing composition of end-of-life electronics. It also shows which processors gained and lost weight allocations last year.
The Washington Department of Ecology recently released the 2017 report for the E-Cycle Washington program, the state's extended producer responsibility (EPR) program for electronics. The report was compiled by the Washington Materials Management and Financing Authority (WMMFA), an OEM-funded EPR group.
The total weight collected through the program continues to drop, from 45.2 million pounds five years ago to 30.9 million pounds last year. The 2017 number was the lowest in the history of the nine-year-old program, which accepts TVs, computers and monitors.
Last year, manufacturers spent an average of 29 cents a pound on the program, including collection, transportation, processing, program administration and other expenses. That was up slightly from 28 cents in 2016.
The following are a couple of takeaways from the document compared with reports from earlier years:
Stream composition
An E-Scrap News analysis of program annual reports over the past five years shows how the makeup of the end-of-life stream is changing.
For example, five years ago, CRT glass made up 49 percent of all weight destined for recycling. Last year, it was 43 percent. Five years ago, plastics were 15 percent of the weight, and last year they were 20 percent.
The chart below shows composition of materials that were recycled through the program:
The trends mirror those identified in a study conducted by the Rochester Institute of Technology, Consumer Technology Association (CTA) and Staples Sustainable Innovation Lab.
Shifting allocations
Some processors have been allocated more pounds by WMMFA and some less. In 2016, more than one-third of the programs weight was sent to Seattle-based processor Total Reclaim. In that year, the weight allocations were as follows (excluding ERI, which was allocated comparatively little weight):
Ace Metal: 6 million pounds (16 percent)
E-Waste LLC: 3.2 million pounds (9 percent)
ECS Refining: 5.7 million pounds (16 percent)
EWC Group: 4.6 million pounds (12 percent)
Total Reclaim: 13 million pounds (35 percent)
IMS Electronics Recycling: 3.7 million pounds (10 percent)
Simon Metals (Vancouver and Tacoma locations combined): 436,501 pounds (1 percent)
In late 2016, IMS closed its Vancouver, Wash. facility, which was purchased and re-opened by Simon Metals. Also, in September 2016 and October 2017, state regulators issued fines against Total Reclaim over exports and storage of e-scrap (the company is appealing). WMMFA reduced its pound allocation to Total Reclaim significantly last year. The 2017 allocation were as follows:
Ace Metal: 5.4 million pounds (17 percent)
E-Waste LLC: 3.3 million pounds (11 percent)
ECS Refining: 2.0 million pounds (7 percent)
EWC Group: 3.4 million pounds (11 percent)
Total Reclaim: 6.9 million pounds (22 percent)
Simon Metals (Vancouver and Tacoma locations combined): 9.9 million pounds (32 percent)
Earlier this year, WMMFA decided to discontinue allocating pounds to Total Reclaim, according to the state Department of Ecology.
Photo credit: imging/Shutterstock
More stories about EPR/stewardship