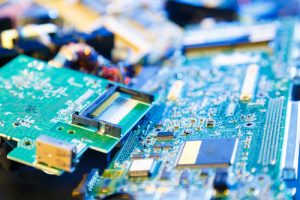 A Washington state metals recycling company has grown its e-scrap capabilities by acquiring a facility previously owned by IMS Electronics Recycling.
Tacoma, Wash.-based Simon Metals has purchased the 69,000-square-foot location, which includes an advanced shredding and separation line, in Vancouver, Wash.
Paul Olsen, president of Simon Metals, told E-Scrap News his company took over the site starting Dec. 1. It's now at full capacity and employs 17 people, including many former IMS staff.
"Now it's churning pretty high volumes," he said.
The facility was closed by IMS, a nationwide e-scrap processor, in September 2016 as part of a consolidation strategy. In 2016, IMS processed through the Vancouver location 5.7 million pounds of electronics from the extended producer responsibility programs in Washington and Oregon (3.7 million pounds from Washington and 2 million pounds from Oregon). According to Olsen, Simon Metals in November started receiving pounds through Washington's program, and it is currently processing 45,000 to 55,000 pounds per day from Washington's program.
Originally founded as a scrap metal recycling company, Simon Metals began processing printed circuit boards in mid-2013. The move into e-scrap helped the company diversify, Olsen said, and it found a niche in processing the lowest-grade boards.
The Vancouver purchase significantly expanded the company's capabilities. The site location is near the Oregon border, and the facility processes a substantial amount of electronics from the Portland, Ore. metropolitan area. The building came with a 400-horsepower SSI shredder and a separation line with a magnet and two MSS optical sorters. The magnet removes ferrous metals from the shredded material before the first optical sorter removes nonferrous metals and the second optical sorter separates higher-quality circuit boards from lower-quality boards.
The sorting line at the Vancouver facility removes plastics and iron from the stream before the boards are shipped to Tacoma, where Simon Metals has technology to further clean them up. The technologies allow Simon Metals to ship a higher-quality product to Japan for precious metals recovery, Olsen said. For example, shipping containers with pallet boxes holding boards will typically weigh about 32,000 pounds, he said. Simon Metals' technologies allow the company to export a container weighing 42,000 to 48,000 pounds.
"Our refiners love the metal, they love the material because there's no mystery in what they get from Simon Metals," he said.