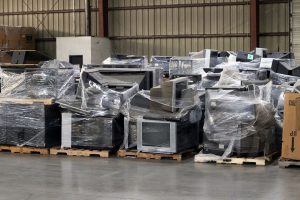 E-scrap collections in Washington state have been decreasing for the past four years, both in terms of total and per-capita weights.
New data released by the Washington Department of Ecology shows the E-Cycle Washington program collected 30.9 million pounds of TVs, computers and monitors in 2017, down more than 16 percent year over year.
Weights collected have been falling since 2013, when the extended producer responsibility program hit its peak of 45.2 million pounds, but last year's drop was the most dramatic so far. In terms of per-capita collections, 4.23 pounds of scrap electronics were collected for each Evergreen State resident last year. That was down from 5.13 pounds the year before.
"This decline has likely occurred for two reasons," wrote Christine Haun of the Department of Ecology. "First, the backlog of old electronics in consumers' homes and garages is now decreasing. Second, there is the growing stream of significantly lighter flat screen TVs and monitors being recycled."
In May, E-Scrap News published an article exploring the changing composition of the scrap electronics stream and how the change is being reflected in Washington's data.
The E-Cycle Washington program began collecting electronics for recycling in 2009.
More stories about EPR/stewardship