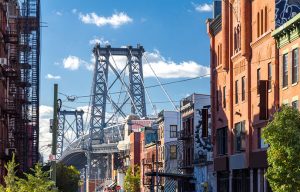 New York City is expanding a program in which households can make a reservation to have end-of-life devices picked up by city crews.
The New York City Department of Sanitation (DSNY) announced that curbside collections are now available in the northern section of the borough of Brooklyn. The service started last year as a pilot program on Staten Island, the city's least-populous borough and the one with the highest percentage of single-family homes.
North Brooklyn residents can now make an online reservation to have electronics collected at the curb. They're urged to erase data before setting the items out. Collection officially began Oct. 1.
The service is a partnership of DSNY, which provide the collection service, and nationwide electronics recycling company ERI, which processes the devices.
Over the next three years, the service will continue to expand to other areas of the city of 8.5 million people. In April, Mayor Bill de Blasio first announced DSNY would look to expand curbside collections to other boroughs.
DSNY and ERI also provide an apartment-building-based recycling program called eCycleNYC. That program is funded by electronics manufacturers.
For the curbside program, ERI has been accepting the material free of charge but will start charging the city next year, a DSNY spokeswoman previously told E-Scrap News.
Paul Williams, ERI's vice president of communications and media relations, said ERI doesn't currently have targeted manufacturer support for the curbside program as it transitions from the existing pilot program. "Manufacturer support will be determined as the program expands," he said.
More stories about local programs