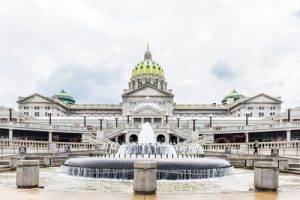 Proposed legislation dramatically overhauls Pennsylvania's e-scrap program, adding a point-of-sale fee on certain devices and making manufacturers financially responsible for end-of-life management of all devices collected under the law.
Senate Bill 800 changes the existing extended producer responsibility (EPR) system, which sets manufacturers' collection responsibilities based on the weight of certain products sold the previous year. Devices covered by Pennsylvania's program include televisions, computers, monitors and peripheral devices. It excludes mobile phones, appliances, GPS units and other devices.
The bill, which joins other recent efforts to modify Pennsylvania's program, will come before the  Senate Environmental Resources and Energy committee for discussion next week. It was first introduced in June.
Major shifts
The legislation sets minimum standards for recycling availability for certain devices. Each county is required to have one "convenience center" with minimum established operating hours for electronics drop-off, excepting areas of very low anticipated collection volumes. In the low-volume areas, counties have a few options, such as providing a smaller "satellite center" that delivers collected material to nearby convenience centers.
Manufacturers can choose to handle administration of all collection and recovery aspects, provided they meet certain criteria and receive approval from county officials. If manufacturers choose not to, they are responsible for funding the government-run collection center network based on a formula that calculates their percentage contribution to overall electronics sales in the state the previous year.
The legislation also alters the funding model for the program by establishing a new charge consumers pay at the point of sale, often known as an advanced recycling fee (ARF). This fee equals 0.5 percent of the device's full retail price. That money goes into a state fund used to offset the cost of administrating the e-scrap program. That includes providing grants to local governments as they set up convenience centers to comply with the law.
The overhaul is similar to changes signed into law in Illinois this year, but also has many differences. For instance, Illinois' system establishes similar convenience standards but allows drop-off centers to charge consumers.
Troubled program
Pennsylvania has had particular trouble with funding shortfalls in recent years. In a February memo introducing the bill, Sen. Richard Alloway laid out the challenges product lightweighting has presented for the weight-based collection responsibility system.
"Because of this flaw in the current system, many citizens do not have access to facilities to adequately recycle their devices and oftentimes are required to pay a fee," wrote Alloway, who sponsored Senate Bill 800. "Municipalities are attempting to fill the void where recyclers once independently operated, but that also comes at a cost not borne by the present system." Alloway is a Republican representing the 33rd District, located in the south-central section of Pennsylvania about halfway between Philadelphia and Pittsburgh.
A full vote on the bill was postponed during the prior legislative session due to potential opposition from the House of Representatives environment committee chair, according to a presentation at the annual Professional Recyclers of Pennsylvania (PROP) conference over the summer.
More stories about EPR/stewardship